---
Featured Artist of December 17, 2018 with the Song: Natalie Wood Said...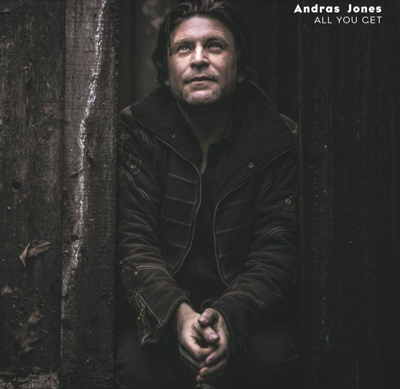 It's September 2001. Andras Jones, fresh off his lead role opposite Seth Green in the psychedelic cult film "The Attic Expeditions" and a triumphant turn in the live production of the Olympia punk rock opera "The Transfused", is embarking on a fall tour supporting his "A Curmudgeon For All Seasons" CD (from Rickie Lee Jones's Great Big Island records). After ten years on the road this will be his last tour. He does not know this.
There will be over 30 gigs between Labor Day and early November. Almost every night of the tour from Waterloo to Murfreesboro to NYC is recorded in front of audiences who are all in some state of shock or denial as the songwriter works out the tunes that would become this record. In October he records a set of acoustic demos in Lawrence, Kansas and sends them to his friend Ford Pier, asking Ford to arrange and produce the songs in Vancouver during the winter of 2002. These sessions feature some of Vancouver's finest musicians and result in the stark, ornate, audacious tracks the songwriter carried with him for the next 16 years.
With the record almost finished the songwriter's marriage ends, people die, wars rage and he falls...apart, abandoning these tracks for years at a time. It's a long slow spiral and re-build that leads, eventually, to living in a shack in a friend's backyard in Olympia in 2015. It wasn't all drinking and crying. Lessons are learned. Things get done: Creative partnerships with Andy Shmushkin and Andy Dick. Publishing the book "Accidental Initiations" with Sync Book Press.
Developing Radio8Ball as a radio show, live event, podcast and app. Sometime after 2012, between distractions and breakdowns, the artist begins tinkering where he can on these tracks with his trusty keyboardist from days of The Previous, Marshall Thompson, but completion forever eludes them. There is a strong and not unpleasant air of "what's the point?" to the endeavor.
Enter Erica Russel, a fan of means and enthusiasm who loves the artist and his music. Her passion makes things possible.
In the spring of 2018, Sheldon Gomberg is drawn into the web of The Pop Oracle. His work with Rickie Lee Jones, Inara George, Eleni Mandell, Tobias The Owl & Sorry About Everything makes him the perfect man (with the perfect gear) to deliver this 18 year old fetus into the world.
And now you have it. This is All You Get.
---