Full Album show of December 27, 2019
Album: Mad Painter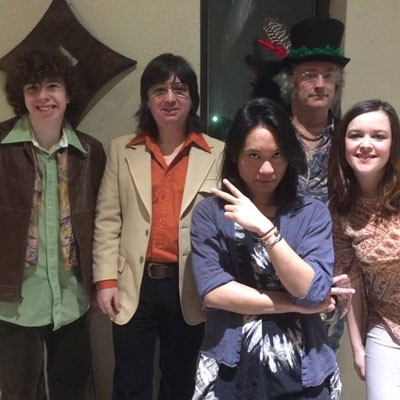 Mad Painter is a new band in the Boston area, deeply rooted in the melodic rock tradition of the 1970s. They play mostly original music, ranging from Woodstock-era psychedelic rock to glam-tinged rock'n'roll a-la Mott the Hoople and the Faces and to epic heavy anthems in the vein of Uriah Heep. It consists of four individuals with wildly ranging backgrounds and ages 20 to 64.
At the center of Mad Painter is Alex Gitlin, the songwriter and creator of the concept.
He is backed capably by a young and amazing drummer Flynn Young, as well as bassist Kenne Highland, a true veteran of the Boston rock scene (ex-Gizmos, Hopelessly Obscure, Johnny & The Jumper Cables) and the newest addition is guitarist Al Prince, who plays with Kenne in Glider.
They've played, in different line-ups and guises, many venues around the Boston area, such as the MIT, Out of the Blue Gallery, McGann's, Hennessy's, Club Bohemia and C Note in Hull, as well as the Winter Tanglefest in the Poconos. It's always a good time when you come to their shows, and you know what to expect - nostalgic 70s rock vibes and stage gear to match, great musicianship and songs that will make you get up and bop around, singing and clapping along. A party.
About the Album: Recorded in Weymouth, 2017, featuring Alex Gitlin (keys, vocals), John Geary (bass), Evo Ivanov (drums), Ross Jackson (guitar, backing vocals, production), Curt Cornell (guitar, production).


---