Myles McCormack
---
Featured Artist of Aug 7, 202
with the song: By Demons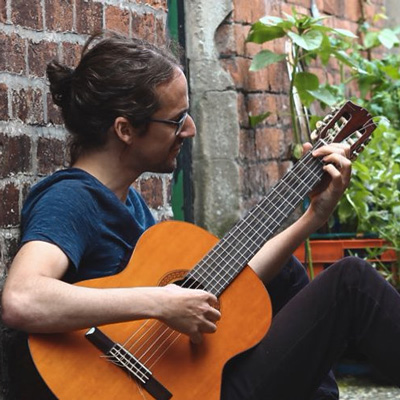 Artist's Biography: Belfast based musician Myles McCormack occupies a very special place within the Irish music community. Beyond his work with innovative trad/fusion group Lonesome George, Myles crafts careful, considered tales under his own name. 'By Demons', out August 7th, is the first of this new material to be released and is a great example of his unique song-writing style and atmospheric sound. Taking the listener on a journey through the subconscious, he sings about embracing the darker aspects of life, both psychological and actual. This follows on from the themes of interconnectedness laid out in his debut record, but develops the dark sound with classical guitar, harmonium and playful lyrics "Deck the halls with grims and gremlins, ghosts and shadows sing my song. Leave a candle for your memory but bring everyone along".
In 2019 he released his debut solo album with a sold out show in Belfast's Duncairn Arts Centre. It's a delightfully original record, which has been capturing hearts and minds ever since. From the wonderfully woven melancholia of opening track 'When' to the throwback folk phantasm of 'Merry Go Round' and beyond, it's a sublime and carefully crafted debut from an artist who effortlessly bridges the gap between ruminating and blissful. Also an accomplished traditional musician, he kicked off 2020 on a US tour singing and playing mandolin with Irish traditional stalwarts Réalta, and has been working on new music at home since the lockdown began. Making the most of this time away from the live circuit, Myles produces his music from home, while also working on a new album with his band Lonesome George.

---
Notes for the artist
: This page will always be here under your name in "
Featured Artists"
You can al
ways send us an updated Bio using 'CONTACT' on Menu at the top of page.
---

© LonelyOakradio.com