---
Full Album show of November 18 2019
Album: Don't Everybody Thank Me At Once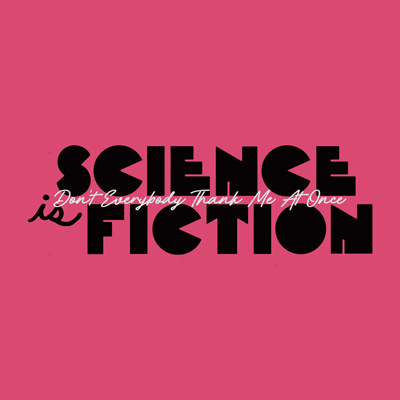 Science is Fiction is a band from Calgary that plays laid back 70s power pop paired w frenetic 90's indie rock. Their sound has been described as "Elvis Costello on steroids" and "a bit Parquet Courts…a bit parent rock".
While Kirk Stensrud (guitar/vocals) and Pavan have been been playing and writing together in basements since their teenage years, they are new to the Calgary music scene after Pavan's return from years of living in Europe and India. Thankfully, they have the guidance of talented veteran bass player Blair Lipkind who previously performed with Calgary's Moyo Combo. Matthew Anderson completes the foursome with his driving steady drum beats that have been getting folks out onto the dance 􀂧oor at all their gigs.
About the Album: Science is Fiction's debut EP "Don't Everybody Thank Me At Once" has been making appearances on the Canadian college charts this fall and made its debut on all streaming platforms on September 28th.
The tracks were recorded at the National Music Centre and mixed by local Calgary legend Lorrie Matheson in 2018, but you'd be forgiven for mistaking it for 1978. It makes sense, since they had access to the NMC's amazing collection. Lead guitar player, vocalist and songwriter Pavan Singh was playing through a classic amp donated by Neil Young and drummer Matthew Anderson produced his rich, warm tone on a vintage Ludwig kit.


---