The Bottle Kids
---
Featured Artist of Sep 9, 2020
with the song: American Girls

Artist's Biography
"Let's put some power back in pop, don't let those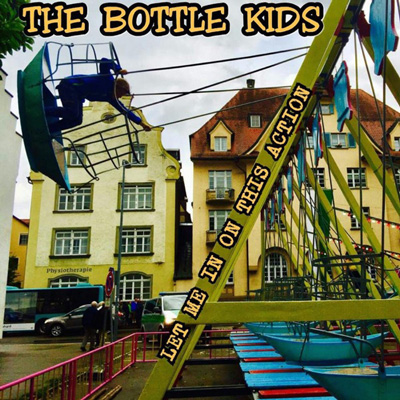 guitars ever stop!" Eric Blakely 2018
It's his true testimonial and on Let Me In On This Action it's delivered on in spades. The Bottle Kids embody the musical vision of frontman, songwriter, producer, engineer, multi-instrumentilest and Berkeley native, Eric Blakely. They combine the best of both then and now; Blakely's deep roots in early 80s power pop allied with his keen sense of songwriting and production making for a refreshing, innovative and stubbornly irresistible sound.
The Bottle Kids trade in quintessentially old-school power pop ala Paul Collins, The Nerves, or The Plimsouls. An inherently Californian blend of pop harmonies, swooning melodies, crunchy driving guitars, and pleasantly lingering hooks, arranged with an auteur's precision, The Bottle Kids offer a soundtrack equally fitting for an afternoon daydream, a poolside party with your crush, or a long drive down the rocky, windy coast.
The Bottle Kids' debut release Such A Thrill, arrived in the summer of 2013 to widespread critical praise. Musoscribe's Bill Kopp, a key voice in contemporary power pop, conveyed a simple yet common theme, "Harmonies meet guitar crunch and the result is as good as the genre gets." Baby Sue listed the album as a highly recommended Top Pick for 2013, with the insightful assessment, "We've been on the lookout for some great music, perfect for driving around to yard-sales this spring, and this is IT," while Something Else placed it, "high on the scale as one of the greatest debut albums to sail down the street in many moons," noting "spirited pop rock, drippin
For Berkeley-born-and-raised Blakely, The Bottle Kids represent both a departure and a return to his roots. Blakely cut his musical teeth in the heart of the emerging Bay Area power pop/new wave scene of late 70s/early 80s, recording his first album in 1983 (Eric Blakely And The Blame) with the late Dave Carpender of The Greg Kihn Band as producer. He quickly gained an enviable musical pedigree in the genre, performing domestically and abroad with artists such as The Rubinoos, Dwight Twilley, Powell St. John, and Stu Cook of Creedence Clearwater Revival.
Wanderlust and touring spirited Blakely first to Los Angeles, then Paris, and finally Austin, Texas in 1989, where he made an equally impressive name for himself as a rootsy-country singer-songwriter. The Houston Post was not alone in its praise for his Uncle John's Farm collection calling Blakely "one of the most promising young Austin songwriters". Blakely spent two decades in Austin honing his craft as both writer and performer, recording and producing five albums to critical acclaim, starting his own recording studio (Folk Reel Productions), and touring throughout the United States and Europe with what the UK's Bucketfull Of Brains called his "bright, witty, and erudite country-pop songs".
In 2010, Blakely hooked-up with Paul Collins to play lead guitar on the King Of Power Pop album, sowing the seeds of a 'menacing power pop itch'. It was the itch that pointed Blakely back to his roots in Berkeley, where after recording Such A Thrill in Austin, he relocated like a power pop prodigal son in order to debut the live incarnation with an impressive cast of Bay Area musicians.
Such A Thrill was performed and produced entirely by Blakely; the same is true of Let Me In On This Action except this time the recording was completed in Europe. Having begun the process in Berkeley the wanderlust set in again, his studio currently residing in a basement in the suburb of Paris he now calls home. This has allowed him to connect with the prestigious Spanish-based imprint Rock Indiana and to gig regularly in both France and Spain.
The new album comes chock-full of instant power pop classics. The rousing opener 'When You Come Around' only just slips over the two-minute mark but jam-packed with incident and change it sets the bar high, and the pace doesn't falter with the punning, guitar-rich 'Her Heart Is Much Worse Than Her Bite'. There's a brief peek at his country-rock side in 'The Only Heart That I Can See' with maybe a tinge of Pau;l Westerberg in the vocals but otherwise he goes on mixing up the anthems; the jubilant celebratory 'American Girls', and the driving nostalgia of 'Back When We Were Young'; with the more measured baroque of 'Let The Light Shine In Your Eyes', with harpsichord and soaring guitars, and the unimpeachably Beatlesque 'I Miss Her Goodbyes'.
It all makes for an overwhelming collection of splendid songs with classic flavours. Energetic guitar pop made with conviction and credibility, by a brilliant composer and talented instrumentalist with a resourceful, emotional and contagious voice, who most assuredly does put that power back in pop.

---
Notes for the artist
: This page will always be here under your name in "
Featured Artists"
You can al
ways send us an updated Bio using 'CONTACT' on Menu at the top of page.
---

© LonelyOakradio.com