---
Full Album show of A00000008
Album:

Artist's Biography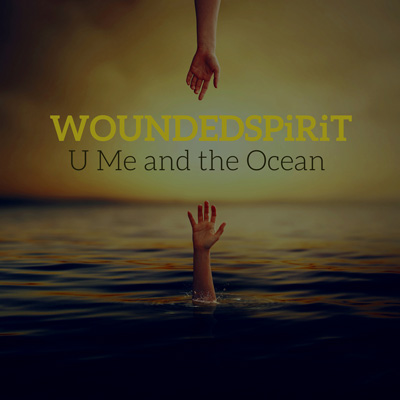 WOUNDEDSPiRiT a 5 piece indie/pop/rock band from the UK announce their return with a mix of synth/guitar driven hooks for their fans with the release of heir 2nd album U Me and the Ocean. The album is a follow up to the 2018 award winning debut album FOREVERyoung and is available now on all digital formats U Me and The Ocean -was recorded in Cornwall in the UK and Produced by Gareth Young who has worked with Ronan Keating, Sugarbabes and 3 Daft Monkeys and Mastered by Pete Maher whose work includes U2, The Rolling Stones and Liam Gallagher and mixed by Ross Rothero-Bourge who mixes for The Uk Drum Show and Zildjian.
U Me and the Ocean is composed of 9 tracks and mixes Synth/guitar driven sounds which are the driving force behind the Album Title track U Me and The Ocean to a more pop/country/gospel feel for the track Two sisters of Mine written about Lead Singer Jason Kelly's Daughters. The album also introduces on backing vocals the vocal talents of Bethany Anniemae on her recording debut.
WOUNDEDSPiRiT have taken their recording experience of FOREVERyoung and introduced a more 80s synth/guitar driven drive to the album," we worked hard in our home studio on sounds and had a direction we wanted to go before we started recording in Cornwall, the demos we recorded made the album come alive before we really had begun" says Jason Kelly.
And while each song varies in tone, "they are all original in a rich mixture of diversity, love, sadness and hope, we wanted to show our feelings on this album, dig deeper within ourselves through the expression of music and words" says Jason Kelly. The new album includes the epic Another Day touching on loved ones who have passed on, to the duet Playcold with Bethany Anniemae that looks at the relationship of 2 lovers.
Elton McTaggart, Drummer/songwriter of WOUNDEDSPiRiT, "we have brought a collection of songs that encapsulates WOUNDEDSPiRiT, this album will feed our fans further and will win us more fans through the albums diversity" WOUNDEDSPiRiT plan to tour the album in late 2020/2021 with a physical release of the
album planned for late 2020.

About the Album:
U Me and the Ocean was Recorded in 2019/20 Produced by Gareth Young and Mastered by Pete Maher(U2/Killers) this album is a follow up to 2018 album FOREVER young which won album of the year at the BCMAwards 2019. The album is moving WOUNDEDSPiRiT in a new direction of electronic sounds, with a mix of songs that cross over genres eg Playcold crosses into Country/pop/rock then the opening track Love-emotion-devotion is a stadium inspired electronic big sounding anthem. The album is released digitally only with a full physical release planned for October 2020.


---