New Music show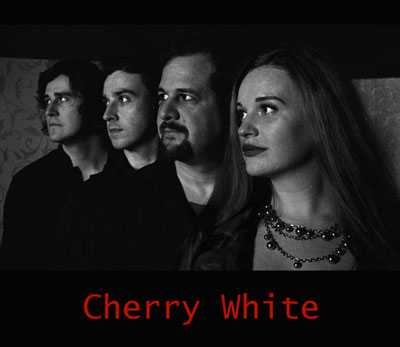 Cherry White - "Drifter"
Cherry White grew from the London's dusty underground blues scene. Four individuals who had nothing else in common but music, and somehow gelled together in the sweat and smoke of the city's basement clubs, Cherry White bring a fresh flavour to contemporary classic rock.

The frequent comparisons to Fleetwood Mac, Joss Stone, and Royal Blood merely scratch the surface of the music, for this group weaves a far darker set of stories around its rich musical framework. Daring, blues-soaked rock provides an elegant backdrop to tales of anger, desolation, greed and obsession. A stark world seen through the eyes of powerful uplifting music.

On an upward trajectory since the release of their latest EP, "Staring at the Sun", Cherry White have headlined White Trash in Berlin as well as The Troubadour, The Covent Garden Arts Theatre, The Hope and Anchor (all London) and The Portland Arms (Cambridge). Having finished 2015 with an appearance at the Planet Rockstock Festival, 2016 looks set to be a bumper year.


Notes for the artist: This page will always be here under your name in "Featured Artists"
You can always send us an updated Bio using 'CONTACT' on Menu at the top of page

The "Next Play" is a pretty accurate estimate. The Rotation is currently 40-45 days due to the huge number of submitted songs. You can always change it to Rotate in 1 day with only $1 donation. Click "Promote and Donate" on the menu, at the top of the page, for more info.