New Music show (today) click here for the playlist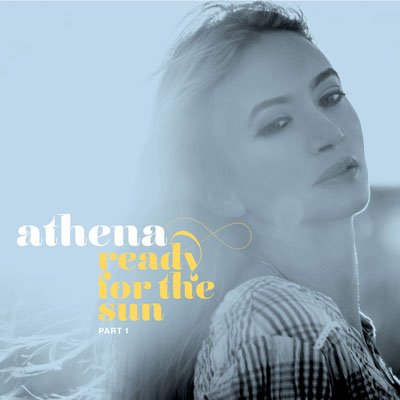 Athena - "You Bring Me Luck"
When Billboard Magazine recognized Athena as "a talented rising pop star," it's easy to see why fans around the world have been creating hype about this Londoner's unique singer-songwriter style. With numerous awards under her belt now including Best Folk/Singer-Songwriter Album at the Independent Music Awards (USA), companies like Starbucks started to pay attention and selected Athena as their exclusive artist to feature her albums and help raise money for local charities. She has sold out international shows, topped the UK charts including Amazon Top 5 and Virgin UK Charts, and has been synced and featured internationally on multiple television series, movies, commercials, BBC radio stations, and shows broadcasted by US giants NBC and CBS. Athena has the same clear vision that marks out Ed Sheeran or Adele and it's matched with a fresh, limitless ambition to boldly stand out as "brave and original" (The Guardian).
Despite all of the musical influence in her Greek household, Athena was forced to study business before music in college. After securing a First Class Degree in Business from Bath University in London, she obtained two post-graduate degrees in Classical and Jazz Voice from Trinity College in London and set forth to release her debut album "Breathe With Me" under her own record label, Embraceable Records.
The success of Athena's album not only caught the attention of new fans but also of respected musicians in the UK, USA and Greece. She started working with renowned award-winning producers and songwriters including Eric Appapoulay (Natasha Bedingfield, Cat Stevens), Richard Causon (Ryan Adams, The Kings of Leon), Adam Levy (Norah Jones), and Ethan Allen (Ben Harper, Sheryl Crowe) to name a few. She went on to release her albums with Sony and EMI Records and headlined tours while music from her second record "Peeling Apples" was synced with the Visit England campaign during the London Olympics. The buzz and hype of Athena's rise to success led British TV (Channel 5) to make a one-hour documentary called My Music, highlighting her artistry and music. She released a Greek record "Giini Aggeli," which also topped the Greek charts for several consecutive weeks, and saw her working with renowned Greek songwriters and producers and touring the country to raise money for Greek & Cypriot families affected by the crisis. With sold-out international performances at world-class concert halls and festivals from the Royal festival Hall and Glastonbury in the UK to SXSW in the USA, Athena has built a strong and sizeable following through word of mouth that can only come from connecting directly with the emotional heart of her audience.
Athena not only touches people through her music, but her environmental concerns are at the core of her work; all her merchandise and album packaging is manufactured using plastic-free and environmentally-friendly and recycled materials, and she has written and performed songs inspired by environmental issues including the celebration of solar energy usage.
In November 2015 Athena performed these songs at the Cradle to Cradle environmental conference and gala in New York City, which was attended and supported by brands from Google to Stella McCartney. In May 2016 Rolling Stone magazine talked about Athena's environmental work as ambassador of the Plastic Pollution Coalition (USA) alongside other notable individuals Maroon 5, Jack Johnson, and Bonnie Raitt.
More of her philanthropic work includes charity work with Concern Worldwide and Save The Children (UK and Germany).
Now on her fourth record, recorded at the Village Studios with Ethan Allen and a Grammy award-winning team, Athena is still climbing the charts with her latest album "Ready For The Sun," which will be released in three parts in the second half of 2016. The first EP (Part 1) has already topped the US Amazon charts as one of the Best Sellers in the singer-songwriter category. The music video of her infectious first single, "You Bring Me Luck," has a playful and whimsical storyline with special guests such as Josh Randall and the world famous award-winning "Ugliest Dog" Rascal, who has appeared on shows like America's Got Talent. It was produced by the same team that is responsible for the videos of artists such as Rihanna and Justin Timberlake.



Notes for the artist: This page will always be here under your name in "Featured Artists"
You can always send us an updated Bio using 'CONTACT' on Menu at the top of page

The "Next Play" is a pretty accurate estimate. The Rotation is currently 40-45 days due to the huge number of submitted songs. You can always change it to Rotate in 1 day with only $1 donation. Click "Promote and Donate" on the menu, at the top of the page, for more info.