New Music show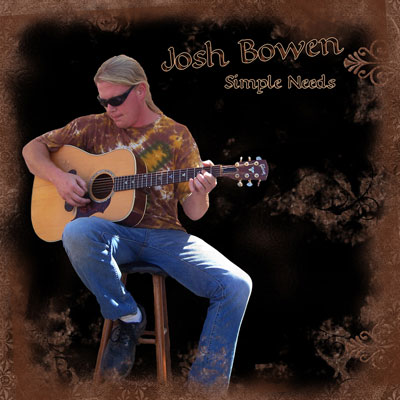 Josh Bowen - "Simple Needs"
Josh Bowen is an eminent singer songwriter originating from the Enchanted Mountains of Portville, New York. Distinct, powerful warm vocals and complete jurisdiction of his guitar makes his performances organic, barefoot and full of soul. Meld Classic Rock, Blues, Reggae and Jam Band you have Josh Bowen's Americana style.
His eclectic playing styles were influenced by an array of different musicians, Jerry Garcia, Bob Weir, David Gilmour, James Hetfield, Jimmy Page, Warren Haynes, Slash to name a few bringing him to his style of Rock.
Depending upon which type of performance is required Josh's assemblage of material consists of about 100 original songs and 300-400 cover songs.
In 2013, after performing many local venues and with various local bands and musicians, Josh created his first self released album, Simple Needs. Which led him on a self booked tour across the United States. While in San Rafael, California Josh met up with his brother, Dan (whom has been Josh's drummer/percussionist since high school) and recorded audio and video footage at Bob Weir's TRI Studio.



Notes for the artist: This page will always be here under your name in "Featured Artists"
You can always send us an updated Bio using 'CONTACT' on Menu at the top of page.