New Music show
Last Featured on this show October 19, 2016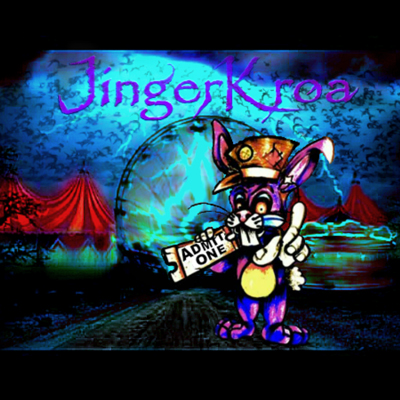 JingerKroa - "Slaughterhouse"
JingerKroa is an original four-piece rock band currently located in the Lehigh Valley Area of Pennsylvania. Conceived in 2011, the lineup features J.Goth on lead vocals, Unkl Nicky on guitar, HillBilly holding down the bass and Mikestro on drums. Their signature hooky riffs, powerful lyrics and crushing beats have been relentlessly powering up audiences across the nation since they began to rock, leading them to share stages with national acts such as BuckCherry, Black Stone Cherry, Jackyl, Endwell, Powerman5000, He is Legend and My Bitter End, and being featured on festival stages like On The Road to Sphinx Tour, Mayhem Festival and Hard Rock Rising.
Originally formed by J.Goth, Mikestro and HillBilly, each member has a background in several previous bands, but the common thread that eventually united them was a mutual dedication to playing original music, and a need to step outside of commonly drawn genre boundaries to create something that was uniquely their own. With varied influences that include Jimi Hendrix, Jimmy Page, Frank Zappa, the Plasmatics, Depeche Mode, Bad Brains, Tool, Rammstein, Candlemass, Genitorturers and Pantera as well as Johnny Cash, Melissa Etheridge, Merle Haggard, Rascal Flatts, Maroon 5, Korn and Cannibal Corpse, their musical diversity fuels an intense creative chemistry. Their unique expression is rooted in traditional metal, with strong melodic vocals over pounding riffs that alternately tip the hat to punk, doom and stoner: a strong dose of heavy, with a compelling and – dare we say – radio friendly sound reminiscent of early Metallica or Megadeth at their peak.
Their first demo album, Pick a Prize, sold over three hundred copies in its first week of release, and continues to sell very well off the stage and at digital outlets worldwide. Touring for their debut release took them through Ohio, North Carolina, Louisiana, Tennessee, Texas, New Jersey and back home to Pennsylvania, where they are currently working on a follow up album to be released Fall of 2016. Always busy playing local and out of state gigs, JingerKroa actively donates stage time to charities such as Make A Wish Foundation, Wounded Veteran's Annual Fundraiser Event, and Dream Come True functions.


Notes for the artist: This page will always be here under your ne in "Featured Artists"
You can always send us an updated Bio using 'CONTACT' on Menu at the top of page.