New Music show
Last Featured on this show April 9, 2017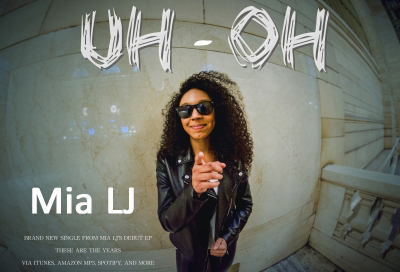 Mia LJ - "Uh - Oh", "Hold Me", "These are the years"
Mia LJ, a New York bred self - taught musician, has been developing her talents for over a decade. She began to play guitar, sing, and song write at the age of five years old. Shortly after realizing her growing passion, she honed in on her natural ear as an advanced writer / performer through piano, drums, bass, cuatro (ten-stringed Spanish guitar), and ukulele all before reaching age ten. Mia has independently created all lyrical and instrumental arrangements for every song to date.
Mia LJ kickstarted her recording career at the age of fourteen years old. She has received critical acclaim for her ability to track every instrument in studio just as she writes the arrangements independently. At 17 YO, she independently organized her first professional release, a gap project entitled These are the Years (now available worldwide via all major platforms). This debut EP was concentrated on displaying her growth and evolution to fans, composed of songs written between the ages of 13 and
17. Just weeks after the EP's release, Mia LJ received several major recording deal / investment offers to initiate production on her debut album. Fully dedicating herself to her passions from such a young age, Mia has been responsible for organizing shows alongside several nationally established acts & diverse Grammy nominated artists, independently drafting & negotiating major deals from production to investment partnerships, and organizing worldwide releases from audio to visual all before turning a ripe 19 years old.
Besides music, she has trained on-camera with Disney Casting Director Jen Rudin, FOX East Coast/Central Casting Director Maria Hubbard, Tribeca Film Director Matthew Bonafacio and more. Her ambition, drive, and dedication only persists as she
continues to grow and create content for fans. NOW NINETEEN YEARS OLD, THE 2017 WORLDWIDE RELEASE OF HER DEBUT ALBUM ONLY SUPPORTS THAT THIS IS JUST THE START FOR MIA LJ.
Notes for the artist: This page will always be here under your name in "Featured Artists"
You can always send us an updated Bio using 'CONTACT' on Menu at the top of page.