New Music show
Last Featured on this show May 7, 2017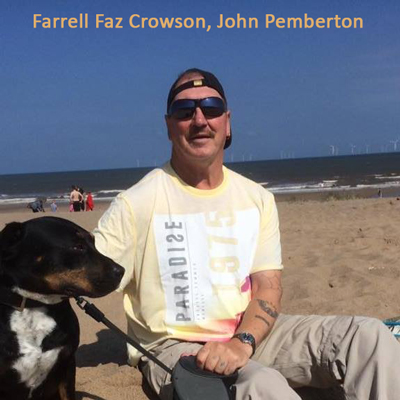 Farrell Faz Crowson, John Pemberton - "Love Bites", "Storm"
New song writer, from Loughborough Leicestershire, trying to get my music heard, over a dozen songs to complete, some got through to the finals UK song competition. I use Faz Crowson because he's a better singer, and Deborah Moore because I write songs for male and female singers, I also write songs in different styles Pop, has well as Rock usually. I also wrote a special song to try and help the people trapped inside Aleppo Syria, I needed outlets to get this on the airways, can you help, please? I am an unsigned artist, I wrote songs years ago but never did anything with them, I started seriously songwriting earlier this year, 2016.It is now 2017 and I am updating this information, 01/05/2017. I sent several songs to bcc introducing, (love bites, rock,) (love by day love by night rock) (Aleppo anti-war song) and( Merry-go-round pop) since the I have joined CDBabys song promotion company, with a list of other songs 9 in total so far. Suzie sunlight ep,8, songs, and 2, singles,
Notes for the artist

: This page will always be here under your name in "Featured Artists"
You can al
ways send us an updated Bio using 'CONTACT' on Menu at the top of page.