New Music show
Last Featured on this show May 10, 2017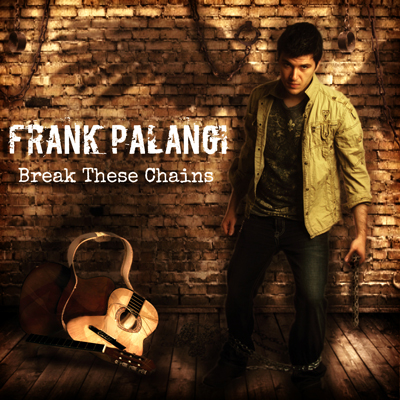 Frank Palangi - "Break These Chains"
"THE POSITIVE FORCE OF ROCK"
Frank Palangi is an indie American recording artist grown from the Upstate, NY region serving up a feeding frenzy of gritty, raw, powerful vocals with energetic, infectious, driving music.
Palangi's creativity is fused with the kick of rock n roll running through his veins.
Grounded from a solid support system from his upbringing, his motivation as a songwriter and multi-instrumentalist is focused not by the temptations of partying every day and every night. Frank is determined to follow the positive path without hesitation.
Growing up he had to adapt to his medical illnesses and it impacted his lifestyle, but he took a negative and rerouted illness into a strength to use for music. - " I have no plan b in backing down on my dreams" Palangi is currently working on a new single/EP "Set Me Free" and a new music video to view on VEVO in 2017. "All I can say is this is going to be a heavy rock record more than my past two releases. It's heading in a direction that I feel will grab a new audience. It doesn't jump around style wise as much but more of a focused goal and direction." Break These Chains produced by Brian Craddock will be included in the EP.
Frank is self producing, recording and mixing this release for the first time. Download
any of his releases on iTunes, Amazon and more.
Influenced from metal bands from the 80's (Metallica), grunge bands from the 90's (Creed), modern bands from the 2000's (Daughtry), his taste in music is spread out as a millennial but Frank has developed his own sound, image, attitude and following.
Landing acoustic and full band shows opening for 3 Doors Down, Red Sun Rising, Buckcherry, Candlebox, Aaron Lewis (Staind), Starset, Lacey Sturm (Flyleaf), FUEL, TRAPT with Smile Empty Soul / Candlelight Red / Veer Union, Powerman 5000 with HEDPE, Young Guns, HURT, Jess Malin (Former D-Generation singer), IM5 and regional acts Spiritual Rez, Prospect Hill, Bad Axis, Hindenberg, Sirsy, Deluka,
Silversyde. Winning slots on The Rocknderby Festival at the Schaghticoke, NY fairgrounds featuring Megedeth, Shinedown, Dokken, Like A Storm, Coheed and Cambria and The Uproar Festival at SPAC in Saratoga NY featuring Alice in Chains/Jane's Addiction. He is locally a winner of the "BEST IN THE REGION" awards in Metroland/Post Star newspapers in Upstate NY Region for (Best Acoustic Solo).
"Palangi's positivity extends beyond his music into the way he interacts with his fans. " - Guitar World.
"Frank is an amazing young artist with a very clear and focused direction... Frank knows who he is! A killer singer and guitar player, Frank Palangi is an artist to watch out for!" – Brian Craddock (Daughtry).
Frank has written and released two EP's (self titled and I Am Ready) plus acoustic versions receiving an LA Music Awards Nomination for one along with a few singles including the Akademia Music Award Winner / Unsigned Only Finalist song: Break These Chains - music video on VEVO. Frank has been seen on 2 commercials for the song in NY's Time Warner Cable TV network and Local NY TV performances on Fox23 News, News Channel 13 (NY), LookTV, Plattsburgh Studio B TV, Crandall Library, Prospect School/Center of Disabilities Telethon. - National Press in GuitarWorld.com, Revolver Mag.com, Music Now Magazine, Young Celebrity News, The Examiner.com, Mi2n.com- along with top 50 charting tunes on local FM and international internet radio stations. - Local newspaper features: The Albany Times Union, Saratoga Spotlight News, The Chronicle, The Poststar.
"Frank's natural talent and certifies that he can write songs that compete with the big boys of rock." - Jamsphere Magazine.
-BOOKING/INQURIES: frankpalangistreetteam@yahoo.com - WEBSITE: https://www.frankpalangi.com
Get with Frank and book today. Call, or email your local Rock station to request some Palangi!
Notes for the artist

: This page will always be here under your name in "Featured Artists"
You can al
ways send us an updated Bio using 'CONTACT' on Menu at the top of page.