| | | | |
| --- | --- | --- | --- |
| | | Cory M. Coons | |

The Featrured Artist
of December 21, 2018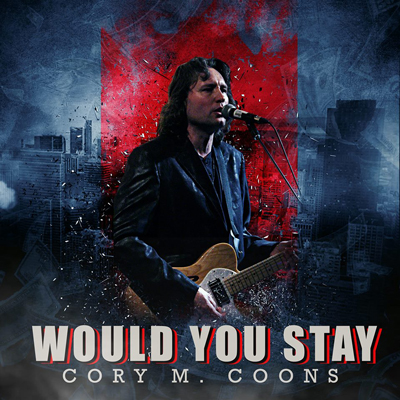 Cory M. Coons has been riding a wave of success following the release of his latest album, "The Long Road Home." The Ron Nevison-produced album has been receiving critical praise, earning Coons two Radio Music Awards. The singles, "Long Road (Dead Man's Dream)" and "Once Too Many, Twice Not Enough" have been climbing national radio airplay charts. Coons also received an Outstanding Achievement Award from the Indie Music Hall of Fame for the latter single's chart performance.
Growing up in Eastern Ontario (South of Ottawa), Canada, Cory M. Coons has been passionate about music since his early teen years. In 2015, he was nominated at the "Producer's Choice Honors", (formerly Los Angeles Music Awards), in the "Rock Artist Of The Year" category. In 2014, Coons won the Producer's Choice Honor for "Studio Album Of The Year" for his Independent EP "Share A Little Time." Coons also received nominations for "Male Singer/Songwriter" and "Record Of The Year."
Cory's eclectic influences include a collection of genres like Melodic Rock and Roots-Rock, blended with hints of Country-Rock. He is a respected freelance guitar instructor in the local St. Lawrence Seaway Valley and at Rock My House Music Centre in Kemptville, ON. Cory has opened and performed alongside internationally recognized Canadian artists like April Wine, Kim Mitchell, Glass Tiger & David Wilcox.
| | | | | | | | |
| --- | --- | --- | --- | --- | --- | --- | --- |
| # | Pacific | | Time | Name | length | Rating | Notes |
| 1 | 8:00 AM | & | 8:00 PM | Would You Stay | 03:27 | 4 | New song |
---
Featured Artist of May 1, 2018

Song: Long Road (Dead Man's Dream)(4:16:)
It's finally here! After travelling between Vancouver/Washington in the U.S. and Ottawa/ Canada, Cory M Coons hits it out of the ballpark with "Long Road (Deadman's Dream)" – a strong edgy melodic rock song produced by veteran music producer Ron Nevison, (Heart, Bad Company, Damn Yankees, Survivor, Styx, Night Ranger).
Cory's Bio, in short: Cory continues to deliver memorable, well defined hooks and a timeless vocal character similar to many of his finished songs released. Growing up in Eastern Ontario (South of Ottawa), Canada, Cory M. Coons has been performing, writing and recording music since about the age of 13. Cory was recently nominated at the "Producer's Choice Honors", (formerly Los Angeles Music Awards), in the "Rock Artist Of The Year" category for 2015... And previously was the the 2014 recipient of the Producer's Choice Honor for "Studio Album Of The Year" for his Independent E.p "Share A Little Time". Previous nominations also included "Male Singer/Songwriter" and "Record Of The Year". Cory's influences are a collection of various genres like Melodic Rock and Roots-Rock, blended with previous hints of Country-Rock. He is a respected Freelance Guitar Instructor in the local St. Lawrence Seaway Valley and at Rock My House Music Centre in Kemptville, ON. Cory has opened and performed alongside such treasured National Canadian Artists like April Wine, Kim Mitchell, Glass Tiger & David Wilcox. Previous releases on Youtube you might enjoy would be "Share A Little Time", "Seven Year Itch" and "Eyes Of Blue (Charleigh's Song), also available for airplay if wanted, let us know…