Ophiuco
Paolo "Ezua" Zangara and Marino "Malima" Peiretti start their collaboration in the band IK14. The more than positive experience soon turns them into the top italian Drum & Bass band: IK14 start hitting the stages of some of the most renowned Italian and European festivals, playing alongside famous bands such as: Chumbawamba, Apollo 440, Kruder & Dorfmeister, Nine Inch Nails and many others. After this lucky adventure, Ilaria "Ali" Nicolini, with her solid background in theatre and performances, joins the band. Ali's voice perfectly blends in their project, which includes an unusual use of electronic music.
Ophiuco seek a particular way to destructure, look for fractals to soil and to propose again and for sound scenarios that remind of something or a specific period. Sounds get dirty to mirror and fit modern society and the inevitability of everyday life. This is how the band – now named Ophiuco- starts its new adventure.
In 2007 Hypno Queue is released with Minuta Records, and divided in two Eps available on-line only. A tour along Italy follows. After this work, everybody gets back to their personal projects, just to meet again in 2014 to work on Hybrid, which will be released in September 2015 by Seahorse Recordings. For this new album, Ophiuco decide to involve new voices: Irene "Ire" Parabita, Luca "Morse" Morselli and Nathalie "Nat" Carlesso (Little Creatures, Tin Toys), so as to have a new sound and structural impact. The new tracks have a pretty unusual "song shape". Everything is more open, ready to embrace apparent contrasts and to create a parallel space in which the heavy feeling of reality can be neutralized, following a hypnotic zone or something very similar.
About the Album: second cd by ophiuco. All compositions by ophiuco recorded at malimaStudio mix & mastering by malima produced by cristiana tenti.



Notes For the artist:Notes For the artist: This page will always be here under your name in "Featured Artists". You can always send us an updated Bio using 'CONTACT' on Menu at the top of page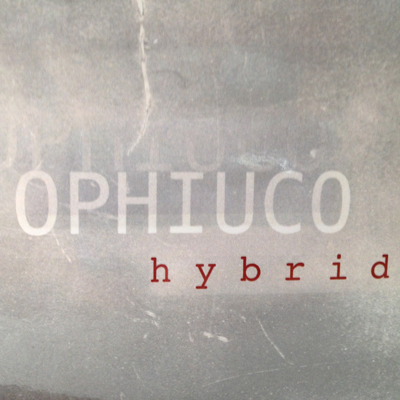 #
(PST)
Name

length
Rating

1
10:00
Desert

03:32
3

2
10:03
Trip

04:28
3

3
10:08
Pneumatic Psyco Bodhidharma

05:00
3

4
10:13
Ground

02:50
2

5
10:16
While
04:20
3

6
10:20
Stress is a Killer
03:30
3
7
10:24
Scrowls of Intentiones
04:50
2
8
10:29
Figurato
03:54
3
9
10:33
Out of the Window
04:02
3
10
10:37
Transitional Eyes
03:52
2
11
10:41
Game Machine
05:52
2