Mary Fakhoury
Mary has an amazing, multilingual singing ability, a unique style and unmatched creativity, which has allowed her to differentiate herself, from any other entertainer in the world.
Although Mary is just beginning to receive international recognition with her own singing career, the music industry is nothing new to Mary. Singing, performing, dancing, being on the road, is in Mary's blood. Mary grew up with the entertainment spoon in her mouth. She has toured, along with her father, who is a world reknown singer, since she was 7 years old.
Mary knew, at a very young age, that singing is all she ever wanted to do, however being the wise woman that she is, Mary first obtained a degree in education and learned the business side of entertaining, before making her grand entrance as a professional singer. Thus, ensuring her future success and making her a force to be reckoned with in the music industry.
Growing up, Mary loved and was exposed to all types of music, eventually developing her own style. Mary was not satisfied with having just one sound or just one voice. She wanted to create many sounds and many voices but coming from a very strict culture, despite her father being a famous singer, Mary had no support in obtaining her life long dream. She was forced to keep it a secret, sharing her amazing voice and true desire with only her most trusted confidantes. Yet, she always knew, that this caged bird would one day sing freely.
In order to keep her true plans a secret, Mary turned her dream into a game, by developing alter egos named Donia, Edith, Venus and Rockann. Each personality is a facet of Mary. When Mary becomes each personality she completes transforms into the new role, new sound, new identity. Listeners, across the world, have been amazed, when listening to Mary's songs sung in different languages, genres and accents that each one is still Mary.
Mary combines fantasy and reality into a story that has never been seen or told before, all inspired by her life and what she has gone through both good and bad. Join us on this unique journey through the world of Mary Fakhoury!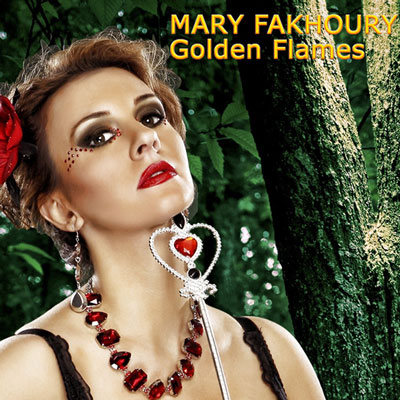 #
(PST)
Name

length
Rating

1
9:00
Me in another Life

03:53
4

2
9:03
How To Get Happy

03:23
4

3
9:07
Living with the Lights Out

03:39
4

4
9:11
Beautiful with You

03:20
4
5
9:14
El Donia
04:35
4
6
9:19
Watch Me Fly
04:01
4
7
9:23
Wonderland
04:12
2