Sv Savana
The musical group SV SAVANA is the group performing original music which can be described as interesting and cognitive. Mostly it plays instrumental guitar compositions inspired by different kinds of cultures and traditions, where author's credo is important.
The group consists of three musicians – Natalya Chaban, Sergey Puchkov and Vladimir Stecenko.
Natalya Chaban has an extensive experience of playing classical music; she is a professional classical music player. Natalya has successfully finished Kyiv Institute of Music R.M. Gliere. A good school of classical guitar practice helps her to fulfil all uneasy tasks of performing.
Natalya has participated in jazz festivals in Ukraine, is pleased to take part at concerts and concert tours.
Sergey Puchkov is our living legend. He started his career as a drummer of the musical group The Pulsar. Later on, after artistic explorations and spiritual quest he had mastered an Indian folk musical instrument – tabla. At those times he regularly went to India in order to take lessons from the best masters of India. Today Sergey regularly goes on tours together with various Indian musicians, and it has brought him welldeserved reputation and fame.
Sergey has performed in many countries; his experience brought him to Greece, Moldova and India. He also played together with well-known Indian musician Bhajan Sopori (santoor) in several cities of Ukraine. Later on he played in the musical group 'The Heavenly River', concerts took place in Italy, Austria, Slovakia, Germany, and Russia. In Italy Sergey took part in the concert of Rachelle Jeanty. More over, he had tours in China and Mongolia. Successful tour together with Indian musician and composer Simple Sharma was held in Russia. Apart from that, Sergey has participated in many various projects with famous Ukrainian musicians.
Vladimir Stecenko being a great guitar player is interested in various musical styles, but from the very beginning of his musical career he always wanted to compose and play the music of his own.
Vladimir as a duo SV Acoustic performed in many countries of Europe, in Luxemburg, in France. Besides that, with gypsy ensemble "Romance" was on tour in Central America in countries such as Panama and Costa Rica. Vladimir also has performed at many festivals in Ukraine and in Russia.
The union of musicians of classical music, jazz and rock has got a strong influence on the music they play. While playing in this line-up each member of the group gets the opportunity to realize his own ideas, especially those concerning the rhythmical experiments.
In 2013 the group released it's own CD – SV SAVANA 'TWO WAYS', where you can hear the music mentioned above.
Album: Two Ways (2013) SV Savana is a relatively young project, and this is its debut album. But – experienced, well-known musicians are engaged here. For example, Volodymyr Stetsenko – a member of the guitar duo "SV Acoustic", who has performed authors' music on the verge of very different styles, from classical music and flamenco to jazz. Serghiy Puchkov – virtually the only professional percussionist in Ukraine, who studied playing the tabla in India for several years. After he returned, he founded "Savana" group together with like-minded people and performed quite meditative acoustic music close to the new age. Thus, the name of the new project becomes clear – as well as what we can expect from it in terms of music. That's right: it is a fusion of diverse, multi-style guitar music and spicy rhythmic patterns – all of that together sounds very emotional and surprisingly rich. Another proof of that in order to create interesting, live music one does not necessarily need to gather a bunch of people. However, to be fair, we should note that Puchkov's tabla here is the key but not the only percussion instrument. Apart from the guitar, Stetsenko also plays the oud and the mandolin. Natalia Chaban does not limit herself to the guitar either, since flamenco – it's not just a guitar, while in this album flamenco plays a very important role... In short, there is no lack of colors or originality – there is something to be listened to with pleasure.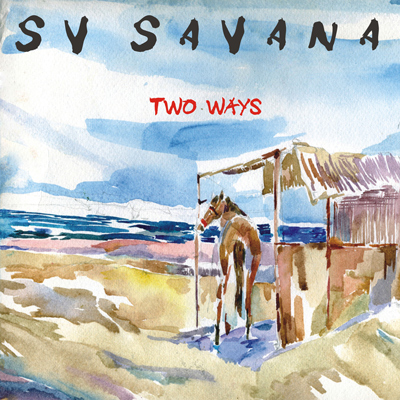 #
(PST)
Name

length
Rating

1
9:00
Pyramid

03:45
3

2
9:03
Meeting(rumba)

03:26
3

3
9:07
Hotel Tambor

03:22
3

4
9:10
Martinete

02:12
3
5
9:13
Rucheyok(gipsy song)
04:35
3
6
9:17
Two Ways
05:18
3
7
9:23
Country
03:38
3
8
9:26
Rose
02:26
3
9
9:29
Spanich my love
05:39
3
10
9:35
Bolivar
04:02
3