New Music show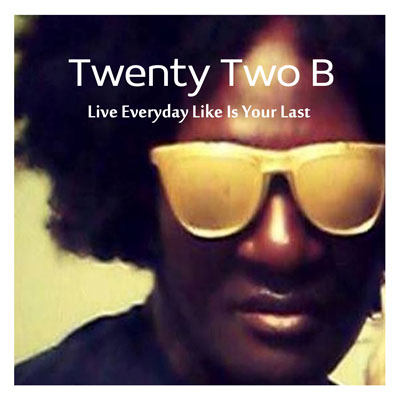 Twenty Two B, "Live Everyday Like Is Your Last"
West-coast recording artist & musical multi-talent Twenty Two B has been electrifying the local scene in Los Angeles, California and making incredible moves with his music to leave a lasting impact on every audience he's been in front of. Twenty Two B has overcome an unbelievable amount of twists and turns throughout his life to become the musician & man he is today; and now with his captivating style and his commitment to truly entertain, the hard-work, dedication and perseverance he's put in is leading him straight to the top. Before his eventual move to L.A.,Twenty Two B grew up on the Ivory Coast of West Africa before having to flee the country as a political refugee after war had broken out. Experiencing the loss of friends & family members, the war had such an impact on his homeland that it became a daily fight for survival; and wanting to escape away from this horror to start himself a better life eventually put him on that plane to Los Angeles…never to look back. Immediately diving into his passion for music, this singer/songwriter began to take hold of his destiny instantly as he pursued the challenging life ahead of a career in music. Inspired by the surrounding peace and no longer haunted by the echoes of warfare – Twenty Two B had truly set himself free in ways he'd never thought possible & had yet to imagine. Combining incredible & exciting new sounds in a blending of pop-music with a rock/hip-hop edge, the occasional trip into psychedelic funk, and his natural ability to connect to the people through his music has seen the reputation for this captivating performer grow and expand with support daily. Playing reputable venues as word continues to spread; has been seen Twenty Two B exciting audiences at well-known clubs like Whisky A Go Go, House Of Blues, The Mint, The Cat Club and also right near the water at events like the Venice Beach Music Festival. Inspired completely by the continuing support and love for his music; passion, Twenty Two B skills, creativity and desire are all at their maximum at this very moment in time. Writing and recording new, unique & dynamic material and in the studio day and night – you can expect the new album from Twenty Two B , titled In The Making, to pop into your speakers in 2016.
Notes for the artist: This page will always be here under your name in "Featured Artists"
You can always send us an updated Bio using 'CONTACT' on Menu at the top of page

The "Next Play" is a pretty accurate estimate. The Rotation is currently 40-45 days due to the huge number of submitted songs. You can always change it to Rotate in 1 day with only $1 donation. Click "Promote and Donate" on the menu, at the top of the page, for more info.