New Music show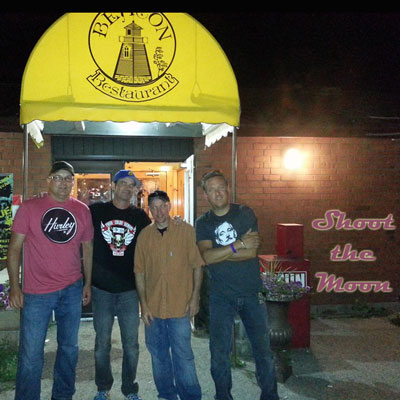 Shoot the Moon - "I Try"
Woody, an articulate player with an 'axe' to grind, grew up in the Orillia area playing guitar from an early age. He has been a member of many popular bands including Rock Dogs from which he has become the consumate professional both on stage and in studio. For many years he has been working on his songwriting skills and can be found most nights in his basement studio, Coldroom Recording.
Lance began playing bass in his teens, playing with trio's and foursome's at resorts and local bars. Through the years, playing many different styles of music, he found and perfected 'his' sound. He now brings this sound to SHOOT the MOON!.
Phil started playing the drumkit with the High School band and was eager to learn as many songs and be in as many different musical groups as possible. His drumming has backed up bands such as The Dif'rence and Dogs of War on stage and in studio while working toward this perfect trio.

Shawn (Woody) Woodhouse – Lead Guitar & Vocals
Lance Troian – Bass Guitar & Vocals
Phil Smith – Percussion
Don Dumas – Guitar & Vocals

They share similar tastes in music and influences. From Reggae and 70's mainstream rock to the 21st century power rock bands.
Collectively, their influences incude Jimmy Hendrix, Rolling Stones, Elvis Costello, The Police, Van Halen, Rush, Foo Fighters, to name a few. During their playing careers they have performed many venues large and small and spent many days in various recording studios. All of these exposures and influences bring you SHOOT the MOON.


Notes for the artist: This page will always be here under your name in "Featured Artists"
You can always send us an updated Bio using 'CONTACT' on Menu at the top of page

The "Next Play" is a pretty accurate estimate. The Rotation is currently 40-45 days due to the huge number of submitted songs. You can always change it to Rotate in 1 day with only $1 donation. Click "Promote and Donate" on the menu, at the top of the page, for more info.