New Music show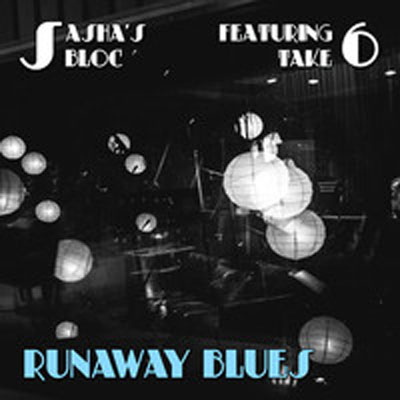 Sasha's Bloc - "Runaway Blues", "Saturday Blues"
An intriguing ensemble founded in 2012, Sasha's Bloc is an amalgam of varied artists, nationalities and experiences, all fueled by bassist and songwriter Alex Gershman. This collective delivers a sound that is consistently big, boisterous, full of spirit and rich in everything that makes jazz linger as an American phenomenon.
The group has played multiple sold out concerts at key jazz clubs in Los Angeles, including Catalina Bar and Grill, Vibrato, Vitello's, and a sold out show in conjunction with KJazz at the Wallis Annenberg Theater. Sasha's Bloc has collaborated with such noted musicians as Jane Monheit and Take 6. Alex Gershman – Bass Guitar "Alexander Gershman is not a jack of all trades; rather he is a master. He wears many hats and wears them all well: physician, surgeon, philanthropist, bandleader, songwriter and bassist to name a few.
The 8-piece small group which is Sasha's Bloc sounded nothing short of amazing as they dazzled the capacity level VIP crowd. Songs like "Feels Like Jazz" and "Breakfast" were guest favorites, along with the sweet and melodic duet "Black and Blue." Speaking of the songs, they are Gershman originals.
And from my perspective, his writing is right up there with some of the classic songsmiths of the first part of the 20th century." -International Review of Music by James DeFrances Brandon Fields - Saxophone Brandon Fields is one of the most talented and renowned saxophone players in the world. His debut recording "The Other Side Of The Story" was recorded in 1986.
Three additional concept albums followed with great success.
World class Saxophone player who performed with Earth Wind & Fire, Elton John, Quincy Jones, Nancy Wilson, B.B. King, Bonnie Raitt, Luis Miguel, Al Jarreau, Robben Ford, Nancy Sinatra, George Duke, Engelbert Humperdink Mr. McChesney – Trombone Mr. McChesney one of the most talented and renowned Trombone players in the world. Some of his film credits include Rocky Balboa, The Pursuit of Happiness, Everyone's Hero, Shepherd, Mystic, Rush Hour, The Cooler, Space Jam, and many others. TV shows featuring his work include The Simpson's, Family Guy, American Dad, Happy Hour, Looney Tunes, JAG, King of the Hill, Futurama, and more.
He can be heard as a jazz soloist on his own "No Laughing Matter - The Bob McChesney Quartet Plays Steve Allen", Horace Silver's It's Got to Be Funky(1993), Bob Florence's Grammy 2000 winning CD "Serendipity 18", and others. Alex Budman – Clarinet, Baritone Saxophone Since his move to Los Angeles from San Francisco in 2005, Alex Budman has been in heavy demand as a session musician and soloist, recording on a wide variety of albums, TV shows and movies. His command of the saxophone, clarinet and flute keeps him busy playing in the top tier of LA's musical community. Alex can be found touring with songwriter Christopher Cross and has been fortunate over the years to perform or record with artists including Eric Clapton, Boz Scaggs, D'Angelo, Erykah Badu, Clare Fischer and Rosemary Clooney. Key Palmer – Trumpet Trumpeter Bobby Shew first got Palmer his start on the Woody Herman Orchestra; Palmer toured 1988 through 1990 with the group. Palmer currently performs and records with the Chris Walden Big Band, Bill Cunliffe's "Imaginacion" and other groups in the Los Angeles area. He has also performed and recorded with LeAnn Rimes, Hawk-Richard Jazz Orchestra, Bob Dylan, Tony Bennett, Joe Williams, and Diane Schuur, as well as touring Japan with the Clayton-Hamilton Jazz Orchestra and Poncho Sanchez Latin jazz band. Television appearances include The Tonight Show with Jay Leno, Late Night with David Letterman. Palmer continues to teach trumpet and is serving as an adjunct professor at California State University, Fullerton. Andy Langham – Piano Andy Langham studied jazz performance at the University of North Texas. His touring credits include Poncho Sanchez, Natalie Cole, Christian McBride, Ernie Watts, Big Bad Voodoo Daddy, New York Voices, John Heard, and Dewey Redman. His recording and/or performance credits include John Abercrombie, Gary Bartz, Terence Blanchard, Arthur Blythe, Debby Boone, Randy Brecker, Bobby Caldwell, Pete Christlieb, Ravi Coltrane, Larry Coryell, John Fedchock, The Four Freshmen, Terry Gibbs, Gerry Gibbs, Tom Harrell, Jon Hendricks, Dave Liebman, Don Menza, Roy McCurdy, James Moody, Sam Rivers, Christian Scott, Bobby Shew, Lew Soloff, Mike Stern, Clark Terry and Steve Turre. Alvin Chea – Vocal Alvin Chea was born in San Francisco, California. A graduate of Oakwood College, he earned a double-major Bachelor of Arts degree in English and Communications.
As a veteran of the music industry, his singing voice has been heard on scores of movie soundtracks and music recordings, and he has been a Voice-over artist anchoring numerous commercials. A founding member of ten-time Grammy® award winning 'Super group' Take 6, Alvin Chea has toured the world extensively and shares glimpses of that life in his autobiography, BassLines. Over their twenty-year history, in addition to becoming the most nominated R&B, Gospel, or Jazz vocalists in Grammy® history, Take 6 has garnered several venerated music industry honors. In addition to the aforementioned activities he is also pursuing a Juris Doctorate in Entertainment Law.



Notes for the artist: This page will always be here under your name in "Featured Artists"
You can always send us an updated Bio using 'CONTACT' on Menu at the top of page