New Music show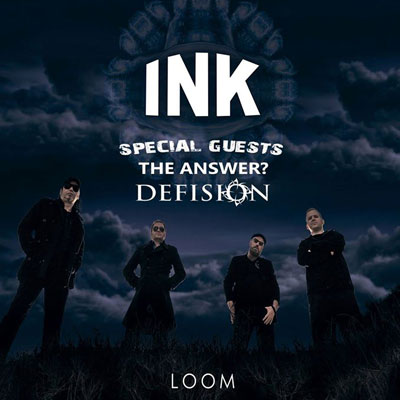 INK - "Rain"
INK were formed on August of 1999 in Alexandroupolis (Greece)when long time friends Savas Karabalasis(guitars, samples, producer) and Kostas Apostolopoulos (guitars) were recording some new songs at Savas Home Studio, they were searching for the guy with the voice and Kostas thought that he knew one. So he brought Chris Tsantalis(vocals) who was obsessed with Seattle vocalists. In about a week they had 3 songs which reminded a lot of bands like Alice in chains, Depeche Mode, The Doors. This primal demo got some very good reviews from greek magazines. Everyone was in diffirent places so they got back together in 2002 when Chris returned after a trip in Bulgaria.They started immediately to record their first complete demo which named NEW DAY. A lethal mix of heavy guitars, psychedelic melodies and soulfull vocals.The influences are the main reason behind their unique sound. Imagine a cross between TOOL, ALICE IN CHAINS, A PERFECT CIRCLE, SOUNDGARDEN,DOORS, THE TEA PARTY and you re nearly there. 2004 finds INK with some new members in the city of SALONICA.
They re bulding a fan base with their powerfull live shows at local clubs,new songs are on the way,and NEW DAY is one of the surprises for Salonica's rock fans. From 2004 till now INK are playing a lot of shows and they re sharing stages with artists like JEFF MARTIN (TEA PARTY, THE ARMADA), THE TWILIGHT SINGERS, GOD IS AN ASTRONAUT, NIGHTSTALKER, CRAIG WALKER, PURESSENCE, MY EXUSE,TESTUBE, MIKRO, SAMAVAYO, RAINING PLEASURE, UNIVERSE217.... they also appeared at Spirit of Burgas Festival in the same bill with FAITH NO MORE, CLAWFINGER, FUN LOVIN CRIMINALS and Ardas river festivals. Trademark is their unique unplugged shows.Their debut album DIARY released in 2009 along with their video clips for their songs WELCOME, HEART PILLS,STRANGE LULLABY. They also released two new videos for their singles OPHELIA (Johnny Bacolas-London Bridge Studios Seattle) and SIRENS (featuring Craig Walker). New album Loom and new video for Persephone is out now!


Notes for the artist: This page will always be here under your name in "Featured Artists"
You can always send us an updated Bio using 'CONTACT' on Menu at the top of page

The "Next Play" is a pretty accurate estimate. The Rotation is currently 40-45 days due to the huge number of submitted songs. You can always change it to Rotate in 1 day with only $1 donation. Click "Promote and Donate" on the menu, at the top of the page, for more info.