New Music show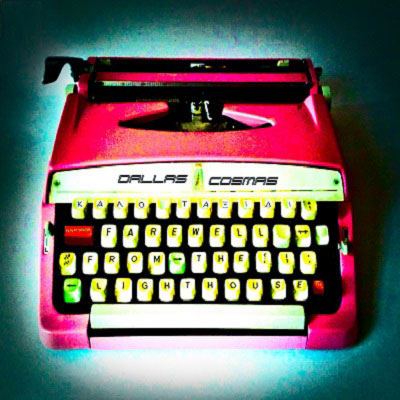 Dallas Cosmas - "Where Did You Go"
The following interview was conducted with Dallas Cosmas by Michel Last for Know-Me-Better following the release of Farewell From The Lighthouse in early 2016.

1. How did you get your initial start in music?
I come from a musical family where the piano was central in the home and gatherings. I was immersed by classical, theatrical, radio-pop before I could string a sentence together. Music found me and took me away really.
2. What would be your ultimate aim in the industry?
Producing and publishing. To share my experience with other musicians and have that real exchange of ideas. A great song is the key that leads you through a door to another possibility.
3. How long have you been writing your own music?
The very first song I finished was with a friend at school. We must have been 10. Much later I made a conscious decision to not to take the regular music study courses on offer. Let life lead me through song.
4. Who are your top three influences and why?
I'm not really into rating because I don't see it like a competion. Do I say John Lennon for the fierce honesty? Kate Bush has maintained a singular vision. Should I mention Serge Gainsbourg for the breadth of musicality? We all know Joni Mitchell writes with amazing depth. Oh dear, that's four!
5. Is there anything you would like people to know about your current release?
My latest release, Farewell From The Lighthouse came about in the midst of some heavy personal losses. I'm grateful to be able to process the aftermath through music shared with some wonderful musicians. I'd like to think the result ultimately leads you back to the lighthouse. The feature track is Things We Said.
6. Where are you based and what's your local scene like? Any favourite venues?
I'm working with a production collective (Prototype Musique) based in Melbourne. Some like to think of it as the musical capital of Australia as many, many gravitate here. The live music scene here caters for bands all up & down the ladder of popularity. The biggest threat are building developers muscling in, wanting to turn every funky corner of the inner city into sterile apartment blocks. It seems to be a problem in many metropolis around the world these days.
7. Who else can you recommend from your local scene for people to have a listen to?
A couple releases I've produced recently are Brother To The Birds – poetic & dream-like. At the other end of the spectrum is Doctor Keith Medicine Woman – highly visceral & instinctive stuff.

Notes for the artist: This page will always be here under your name in "Featured Artists"
You can always send us an updated Bio using 'CONTACT' on Menu at the top of page.