New Music show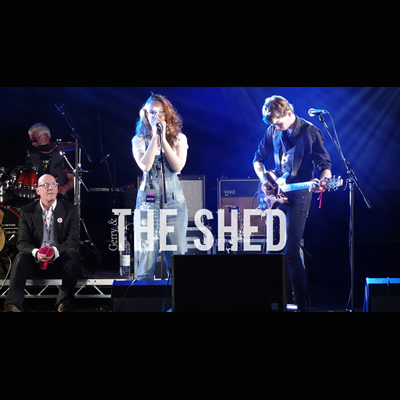 Gerry and the Shed - "Paint Me Pink", "Politician", "Stornoway Blues"
The Shed is a five piece band from the Isle of Lewis. The band was formed in November 2014 to help out at a gig in the Woodlands Centre Stornoway. The Shed is made up of Ken MacLennan on drums, Iain 'Neosa' MacKinnon on bass, Calum Blane lead guitar, Niamh Blane vocals and Gerry Blane guitar and vocals. Their self penned music has been described as 60's influenced folk rock and they have played regular gigs From the Butt to Barra. They have had good write ups in the local press and air play from local radio stations on and off the Island including Camglen Radio in Glasgow and KLBC in California. The brand new EP, Always Ask the Question, Released on the 30th April 2016 features the talented vocals of Niamh Arlene Blane on Paint me Pink, the gifted guitar work and vocal of Calum Blane on his self penned blues number Stornoway Blues and the usual hard work and patience from Neosa and Ken. It also showcases the artistic talents of Gerry's niece Elana Blane, who very kindly drew the front cover of the EP. available now for download from itunes, AMAZON, DEEZER, SPOTIFY and all other outlets. click the EP Cover below or do a search for Gerry and The Shed.


Notes for the artist: This page will always be here under your name in "Featured Artists"
You can always send us an updated Bio using 'CONTACT' on Menu at the top of page.