New Music show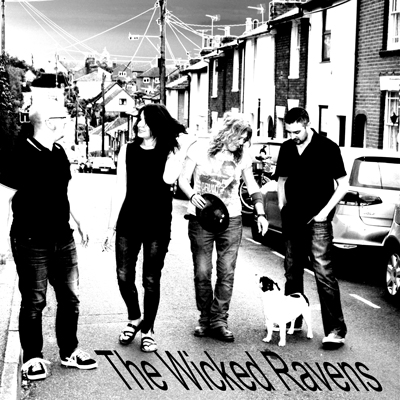 The Wicked Ravens - "Capo 1", "Silver Bracelet", "59 Summers"
The Wicked Ravens are pretty much a diy band, we mostly record live in the singers dining room and prefer to catch the moment rather than perfection we don't really tick pop industry boxes or have shiny auto tuned production values , in a world of throwaway pop and style over substance its easy to lose sight of whats real...we are a live band so our recordings have a live feel to them and are recorded on a 8 track.
We sound a bit like dirty marsh music mixed with a 60's psych trippy folk rock feel, a bit roots with a touch of blues, and some say film noir, sometimes foot stomping, sometimes melancholy, with melodies and lyrics from the depths of real life we live in a small fishing village in north east essex, we had our first gig in the summer of 2015 as The Wicked Ravens but between the four of us we've lived all over the place, played in various bands had gigs with some major artists, touring,festivals,radio,publishing and all that stuff ..like most musicians unless you hit the big time ya mostly skint so we sell cds and merchandise at gigs, have a bandcamp page for digital downloads it all helps right!..,
If you like the sound of us keep in touch and check our website for gigs keep music live playing in a town near you.




Notes for the artist: This page will always be here under your name in "Featured Artists"
You can always send us an updated Bio using 'CONTACT' on Menu at the top of page.