New Music show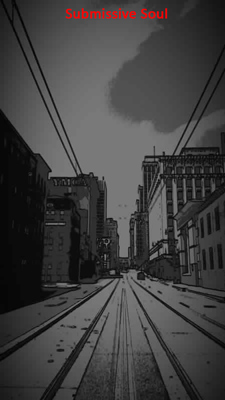 Submissive Soul - "Could be so happy"
It all began on February 18th 2012. I, (David Conrad) had known Romey and Brad from my church worship team, and from a previous venture we were a part of to some extent called "Letters from Ephesus" That project died and it and it's creator went off to other things; (amicably). I thought Romey and Brad were still involved with the old project when I asked them over one evening to help me write two or three tunes to, as I put it then; '...place on youtube or soundcloud in order to garner interest and start a band.' Immediately, the two of them looked at each other and then at me, and decided that the three of us could do it. I was elated to have them. We decided to call ourselves "Broken". A few months after starting the band, we lost our first drummer to more pressing callings on his life. We did have a stand in drummer in the wings for those occasions when said callings pulled our regular drummer away. He, Scott, became our new drummer. At some point thereafter it dawned on us that our name was much too common, and after throwing a few ideas around, we settled on our present name; Submissive Soul. We have gone through one rhythm guitarist to date, and are now still a foursome. Writing has been very frenzied and prolific. We already have enough material to write a couple of albums. We have had some live shows, and are presently considering or being considered for a couple of tours. Our first EP is about to be released, (3/13) and our first album is scheduled for release sometime this summer, (8/13). We love what we do and it comes through in how we write. Every song carries some message. It is our hope that our message is as impactful as when it was written. We don't believe in writing filler songs....We pour our hearts and souls into each song.
The band has started doing live performances. We have played The Stage Stop, New Daisy theatre, and Hard Rock cafe'. We are scheduled to do another show at the New Daisy on July 19th. We are presently talking with the "masters musician tour" and "the extreme tour" for shows this summer at different locations in the heart of the US. It is our mission to use our talents to deliver a message of truth and hope to an audience that is constantly bombarded with negarivity and demeaning messages. It is time for rock with substance. While there are bands out there meeting this challenge, we want to come along side those brothers and sisters and help in the fight to winning back our nation for good; for God. While we don't throw our faith out there as some special qualification or title, we will not hide it when asked or approached. We don't want to go out and beat anybody over the head with a Bible. We want them to hear through our lyrics and the passion with which we deliver them that we too have traveled the paths and roads they have, and that we know what it's like for them, and how much better we are ,(and they can be), now. It is our mission; our calling, to go out and spread that message through this original music...and the venue hardly makes a difference.

Notes for the artist: This page will always be here under your ne in "Featured Artists"
You can always send us an updated Bio using 'CONTACT' on Menu at the top of page.