New Music show
click here for the play list
Last Featured on this show October 26, 2016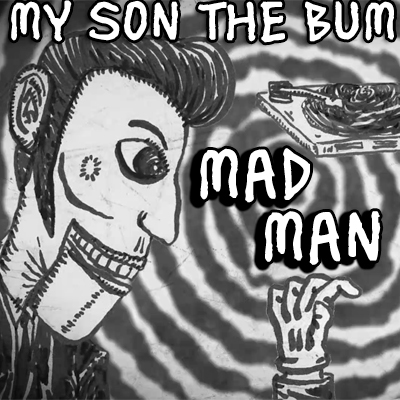 My Son The Bum - "Mad Man"
East coast recording artist Brian Kroll became aware of a terrifying fact a few years back, completely dreading the fact that people were texting and driving and putting him and everyone else in a constant state of danger and peril. Kroll decided to do something about it. That is where his "Death By Texting" song comes into play. Kroll took it a step further and created an animated video to send out to as many outlets he could to play this long form public service announcement. "I realized that every person texting and driving might think the other driver will see them, 'In car 'A' they didn't see, I was the guy driving in car 'B', he said.
Kroll is based in Oceanside, New York and has used the recording moniker 'My Son The Bum' since 2007, but has shifted his focus towards making videos that have been used by several media outlets like MGM Casinos, Shopping Malls and Time Warner in Upstate New York.
He is a songwriter who doesn't sing. He is also a guitarist, a man who in his own words "thinks too much." Brian went from wanting to be in a band to recording 5 albums with a core of studio musicians, thus 'My Son The Bum' came to be. He says finding fellow musicians to share his visions and musical goals seemed to work better in a recording studio situation.
He has been giving the label "Studio head' due to his penchant for immediately returning to the studio to record more songs after the completion of each of his CDs.
He notes that "no two songs sound exactly alike on any of the CD's." His love of taking risks and experimenting make it a challenge of finding the right people to perform those songs live with.
Kroll has always been about the song and all of his songs are inspired by real life experiences. For example, one of the songs off his latest album, 'Death By Texting' was inspired while he was walking out of a hospital. "I witnessed a woman in a business suit walking out of the emergency room exit. She was texting at the same time. The hospital was on a one way street and only the locals knew that. I heard the lyrics in my head 'see her walking down the street, the new brand of road kill meat . . .she should have seen it coming, death by texting'. " Other songs, such as 'Follow me, Like Me' was taken from a recording off a cell phone and takes a jab at the social media trend. As Brian points out, "Social media, at times, feels to me like a stadium of
people standing up and screaming 'look at me'."
Brian's knack for producing recordings doesn't end there. He also puts out animated videos for some of the recordings, which can be found on YouTube. "I have always felt that, for me, the world didn't need another guitar band standing on stage, wielding their guitars," he says. "I was always about the song. If I was going to have videos done, they had to be special. I wanted the videos to be an art form of their own."
Referring to Brian's songs as Public Service Announcements may be unjustified and just plain wrong but they do get the message across, touching on issues that affect us all, especially in today's hectic, fast paced, digitized world. As Brian says: "When writing, I believe that if I stay with my subjective experiences, I have a better chance of connecting universally with others on whatever level I am writing."




Notes for the artist: This page will always be here under your ne in "Featured Artists"
You can always send us an updated Bio using 'CONTACT' on Menu at the top of page.