New Music show
Last Featured on this show November 2, 2016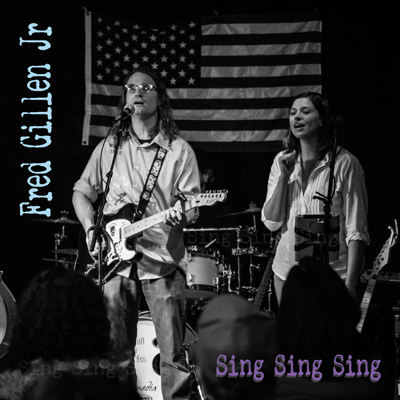 Fred Gillen Jr - "Sing Sing Sing"
Since his first solo concert in 1996, Fred Gillen Jr has traveled all over the U.S. and Europe singing his songs of hope and struggle at all types of venues, building a devoted following along the way. He feels at home performing at any type and size of venue, from a "house concert" in Indiana to Irving Plaza in New York City, to the main stages of festivals, and everything in between. He has played at many prestigious and famous venues, and as many farmers markets, coffeehouses, pubs, and union rallies.
With his sometimes partner Matt Turk he played for several years in the New York City subways as part of the MUNY (Music Under NY) program. At every performance he opens his heart and pours out the unglamorous but compelling tales of the marginalized and forgotten. His songs have often been described as both painfully intimate and universal, and this is what he strives for in writing them. His live performances are spontaneous celebrations of all that it is to be human, he encourages participation, and he works hard to eliminate the "fourth wall" between performer and audience.
Gillen's work has received its share of critical acclaim and commercial exposure. He has had songs on network TV on ABC's All My Children and MSG Network's NYC Soundtracks, and he was awarded a NYFA (N.Y. Foundation For The Arts) grant to help cover expenses for his first European tour. In 2008 his song Fall Down was featured on the CMJ Music Marathon sampler CD, given to 11,000 CMJ conference attendees and radio programmers, and he has showcased at that conference, SXSW, and the Northeast Regional Folk Alliance Conference. In the late 1990's and early 2000's when he was still primarily a regional artist, he was voted "best folk artist" for three straight years in Westchester Weekly, his local A&E paper. He also served his local music community as President of non-profit music organization Tribes Hill for three years, and he was a founding member of the critically-acclaimed band Hope Machine who were an "official program" of the Woody Guthrie Foundation & Archives for several years.A song from Hope Machine's debut CD March was included in Folk Alliance's War And Politics Compilation CD in 2011.In September of 2012 Gillen's version of Woody Guthrie's song I Ain't Got No Home was featured on the Appleseed Records CD Pete Remembers Woody, a recording of Pete Seeger telling stories about Woody, interspersed with various artists' versions of Woody songs.The song This Old
Car from his 2012 CD Silence of the Night was featured on the NPR show Car Talk.He has opened shows for Merle Haggard, Todd Rundgren, Ellis Paul, Dar Williams, Fred Eaglesmith, and others, and performed on stage with Pete Seeger, Peter Yarrow, Tom Chapin, John Hall, and other nationally-known artists in both the folk and rock genres.
Gillen is a prolific songwriter, recording artist, and producer. From 1997 to the present he has released nine independent studio solo albums, one live album, two albums with Hope Machine, and one as half of the duo Gillen & Turk, all to substantial critical acclaim. His music has also been played on independent, commercial, public, and college radio all over the world. In 2010 two of his songs were recorded by Hudson Valley band The Yayas, and in 2014 his widely-sung folk song Sing Sing Sing was recorded by the eco-rock band Solar Punch.As a producer he has about thirty records credited to him in the past five years, and his recording studio Woody's House is a busy hub of Hudson Valley creativity.He is currently a co-writing member of the rock band Hot Rod Pacer, and his latest solo album Wage Love will be released in February of 2015.This is his first solo album which features primarily his more "political" songs, concerning topics such as war, the plight of veterans, freedom, 9/11, and the story of the great labor organizer Joe Hill. It features an a cappella song, and instrumental, and a spoken-word piece, along with eight songs with more traditional forms.
Notes for the artist: This page will always be here under your name in "Featured Artists"
You can always send us an updated Bio using 'CONTACT' on Menu at the top of page.