New Music show
Last Featured on this show November 6, 2016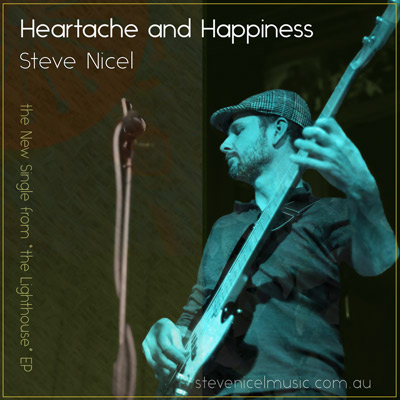 Steve Nicel Music - "Heartache and Happiness"
STEVE NICEL is a singer/songwriter/producer/multi-instrumentalist from north eastern Victoria, Australia. He creates polished blues/folk-rock/groove from the "Shedhouse Studio" writing hub. Steve has a quarter of a century's worth of experience in recording and performing music.
He's played at the Manly International Jazz Festival, Port Fairy Folk Festival and Byron Bay Blues Festival, as well as making several TV appearances. His live performances have taken him as far away as Vietnam and New Caledonia. He is influenced by folk and pop artists like Sting and Jackson Browne, plus jazz legends Dizzy Gillespie and Miles Davis.
Currently working on "The Lighthouse", for an initial 3 track EP release, Steve will be distributing through most major online release channels.
The Lighthouse project draws from decades of live/studio performances enhanced with the music experienced from both the national and international stage. As an creative songwriter and producer, Steve writes with a deep sense of groove and musical heritage.
ABOUT HEARTACHE AND HAPPINESS: What is life without contemplating mistakes, heartache and happiness? If the "easy road" gave itself up to everyone who simply wanted it, it would be so well worn that nobody could ever use it!
Heartache and Happiness is a story of a journey as difficult as it is rewarding. It's possible the song whispers to those who have lived to understand that obstacles are inevitable, pain is a hard teacher, and humility a good indicator of true character.
Exploring a more heartfelt, but secretly uplifting meaning than first listen suggests... Let your thoughts wander somewhere new as the songs takes you through an experience.
Notes for the artist: This page will always be here under your name in "Featured Artists"
You can always send us an updated Bio using 'CONTACT' on Menu at the top of page.