New Music show
Last Featured on this show November 17, 2016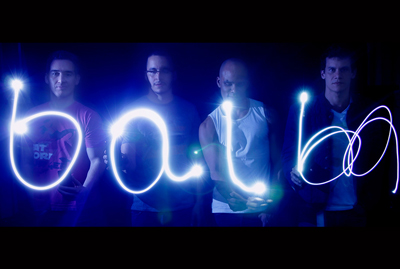 Balba - "One Man Army"
Four Carioca guys decided to mix their unique musical experiences for a single cause: "To make our very best own tunes known all over the world." But English or Portuguese? Yes, Brazil was not enough for them, as they seek to spread this real feeling around the globe. Also, most of their "Rock'n'Roll teachers" and inspirers had come from the U.S. and the U.K., such as the Rolling Stones, the Doors, Guns'n'Roses, RHCP, Oasis and Muse. There should be no barrier to their art, so they just let it flow… However, it's easy to sense the latin touch in their songs, always proud of their origins. "We wanna make it from Rio to Tokyo, so we work really hard and believe in our compositions, that's probably the reason why we've been airing at FM stations at London, Boston, Munich and Canberra. Listen to our music, it's Rock, you gonna shake your head in a positive way", says Dig Obadia, their singer.
The band was born in 2012 and also counts on Lou Conut at solo guitar, Dan J at the bass and Dav Obadia on drums. In 2013 they released Heart Abstract, their debut album with A Heart to Unfold, the internationally acclaimed tune which was included into the Unite! Compilation, with 28 bands worldwide. In 2014, they've launched the EP Is There Anything She Would Die For?, delivering the new hit One Man Army. In 2015, Balba got back into studio to record their brand new 2nd album: I am The Party, when they reached the national cable TV with 2 videoclips. What is still to come? They don't care, as long as there is fun all the way up!


Notes for the artist: This page will always be here under your name in "Featured Artists"
You can always send us an updated Bio using 'CONTACT' on Menu at the top of page.