New Music show
Last Featured on this show November 18, 2016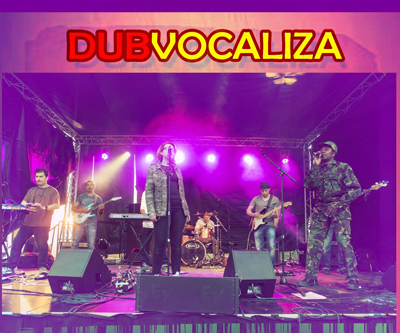 Dubvocaliza - "Time waits for no man"
Oneness, peace and universal love is in abundance when Dub-V is hitting with music .This dub-fusion, electro-rock band has been creating quite a stir on the music scene since formation in 2004.
The band came about when Dub Poet , lead vocalist and song writer Barington Delevente and lead guitarist Kevin Draper, friends from a previous band came together by mutual interest in Dub and Electronica music.
The band was later joined by drummer Matt Curr who stirred up the mix with his awesome and creative style, playing rock, electro and dub loops.
The combination fitted perfectly and gave Dub-V that original and creative edge that defines the bands unique and distinctive sound.
Although filled with enthusiasm and motivation with the tracks they were laying down, the band never anticipated the glowing and positive comments from fans and critics.
This is an exciting, worldly, and spiritually potent fusion, dub- reggae band.
They represent what is magical about live music, the magic connections and expressions which touch people at their core. The message is optimism, love, peace, universal healing. mindcoupradio.com
Dub-V Built on reggae and dub foundations but there's elements of rock especially the Dave Gilmour guitar and a nod to Massive attack, all loved up and trippy.
https://www.bugbearbookings.com/dublin-castle/
The outfit from London preforms a mix of lively and lyrical dub and reggae with elements of rock and electro.
Category : Reggae/dub.
https://www.standard.co.uk/goingout/music/dubvocalizamusic
Dubvocalizamusic,
www.standard.co.uk
Dub fusion and reggae band
Although the band is satisfied with their accomplishments so far, they have set their sights on playing in all the 28 countries in the European Union.
With five albums recorded to date and so much troubles in the world, the band have so much things to say.
There are 9 members in the band, all from different parts of the world, diverse backgrounds and countries ( Jamaica, United kingdom, Poland, Italy, Brazil , France and Spain. They have performed to outstanding acclaim at numerous music festivals and venues throughout the United Kingdom and parts of Europe.

Notes for the artist: This page will always be here under your name in "Featured Artists"
You can always send us an updated Bio using 'CONTACT' on Menu at the top of page.