New Music show
Last Featured on this show December 2, 2016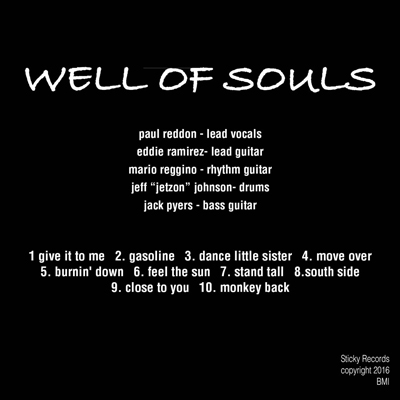 Jack Pyers - "Feel the Sun", "Give It To Me"
WELL OF SOULS on Sticky Records (BMI, 2016) Today!
Dirty Looks bassist Jack Pyers, (Cool from the Wire; Turn of the Screw; Bootlegs; Superdeluxe), has released a live from the studio, tensong collection of no-nonsense, straight up "In Your Face" used hard, and put away dirty rock 'n' roll. This digital release will leave you screaming, "I Want More."
Paul Reddon- lead vocals; Eddie Ramirez- lead guitar; Mario Reggino- rhythm guitar; Jeff "Jetzon" Johnson- drums; Jack Pyers- bass guitar.
Jack Pyers' Bio
Central Pa USA- Jack Pyers is a veteran stage musician, touring artist, and producer from central Pa. As a guitarist, he performed in the heavy-metal and hard rock genre, with two signed bands, one, on Atlantic Records.
One of Dirty Looks' video was shot at the infamous Studio 54 location in New York. Wardrobe assistance came from the Atlantic Label's consultant who took the band to "Trash and Vaudeville"—an infamous alternative fashion store which was born out of the 1970's rock and punk scene on St. Marks Place in New York City. There, they found and wove their personal stage look, like many others of the punk, metal and hard-rock scene. One release hit Billboard charts.
Band club performances and touring roads stretched from New York City to Hollywood to Montreal, with shows from Quebec to Florida and west to Ohio and Hollywood. His metal and rock organizations performed on iconic stages including: The Channel, Boston; L'Amours, Brooklyn; the Cat Club, Manhattan; Lime Light, Manhattan; Theatre of living arts (TLA) Philly; the Philly and south Philly cabaret chain like Ambler Cabaret and Chestnut Cabaret, Philadelphia; Hammer Jacks, Baltimore; The Bayou, DC; Penny Arcade, Rochester; the Agora Ballroom, Cleveland, Whiskey A Go Go, Hollywood; The Gas Works, Toronto. The band had many appearances in Dallas, Detroit, Chicago and internationally, in Quebec and Montreal. Dirty Looks was signed by Atlantic Records during an appearance
at the Penny Arcade.
Pyers performed as bassist with Dirty Looks from 1987-1994. He is in the sole position of offering unique insight into the Dirty Looks story… the only remaining avenue to THE STORY!
Pyers Discography:
Dirty Looks "I Want More," European Label 1986
Dirty Looks "In Your Face," Sticky Records 1987
Dirty Looks, "Cool from the Wire," Atlantic 1988 (Billboard charts)
Dirty Looks, "Turn of the Screw," Atlantic 1989
Dirty Looks, "Bootlegs," Shrapnel 1993
Dirty Looks, "Superdeluxe," Sticky Records 2008
Jack Pyers, "No Road Home," Sticky Records (BMI) 2015
Jack Pyers' Well of Souls, "Well of Souls," Sticky Records (BMI) 2016
New digital album release on Sticky Records "Well of Souls." (BMI)
Available at CD Baby and all online outlets. Mastered by Bret Alexander.

Notes for the artist: This page will always be here under your name in "Featured Artists"
You can always send us an updated Bio using 'CONTACT' on Menu at the top of page.