New Music show
Last Featured on this show December 26, 2016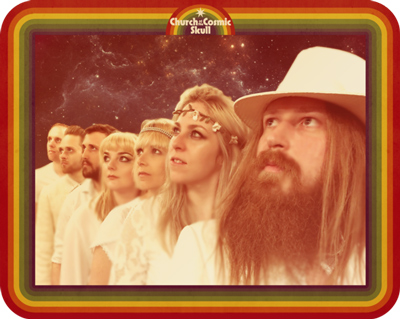 Church of the Cosmic Skull - "Mountain Heart"
Church of the Cosmic Skull is a twofold entity: a new religious movement who seek to free mankind from their material possessions and unify all living beings into a singular cosmic whole; and a 7-piece supergroup based in Nottingham UK playing Prog/Psych/'70s Rock/Pop. For fans of Black Mountain, Ghost, King Gizzard, Uncle Acid. The combination of guitar, hammond organ, electric cello, bass and drums recalls early Mahavishnu Orchestra, but with six-part Queen-esque vocal harmonies and Thin Lizzy pop-rock structures.
Brought together by songwriter Bill Fisher, the group features some of the best musicians in the universe. They released their debut album 'Is Satan Real?' with Bilocation Records/Kozmik Artifactz (Germany) on the 16th September 2016 with a sold-out launch night at the 450-capacity Rescue Rooms in Nottingham UK.
Ltd edition CDs have already sold out - heavyweight vinyl will arrive early 2017.
Notes for the artist: This page will always be here under your name in "Featured Artists"
You can always send us an updated Bio using 'CONTACT' on Menu at the top of page.