A Halo Called Fred
A Halo Called Fred has spent the last two decades making the geekiest sounds ever to spring from guitar, bass, violin, and Tupperware. Featuring songs about pirates, cavemen, and any body part or flying thing you can think of, the Halo has performed with King Missile, been produced by a member of Ween, and featured on The Doctor Demento Show. They have lent their talents to Burlesque shows, motion picture soundtracks, a rock opera, and served as the house band for the Steampunk World's Fair. Specializing in counter-cultural and geeky conventions, the Halo is proud to bring musical joy to any gathering. From Setampunks to Fairies, Bikers to Furries, our message always rings true - "We Love You All!"
Album: Lies, Damned Lies (2017)
Misappropriating a classic Mark Twain quote for the album's title, New Brunswick, NJ's eclectic geek folk-rock act, A Halo Called Fred's new release, Lies, Damned Lies, and Songs by A Halo Called Fred, carries the listener on a quirky, psychedelic journey of music, adventure, soundscapes, comedy, and much percussive use of Tupperware.
As Halo's bandleader Geverend Dee explains, "The goal with the new album was to take everything Halo represents; the energy, spontaneity, and sense of humor of our live shows, and interpret it in a way more fitting to the recorded medium."
Finely honed through live performances, notably at off-beat cultural events such as Wicked Faire, The Steampunk World's Fair, and the Macabre Faire Film Festival, the 24 tracks on "Lies,…" aims for a unique listener experience. Covering a wide range of topics, including apocalyptic fornication, stylish 19th Century eyeware, extremist politics, Rocky Horror Picture Show, illicit drug use and other unsavory practices, Lies, … reinforces A Halo Called Fred's continued agenda of spreading love and happiness.


Notes for the artist: This page will always be here under your name in "Featured Artists" - You can always send us an updated Bio using 'CONTACT' on Menu at the top of page.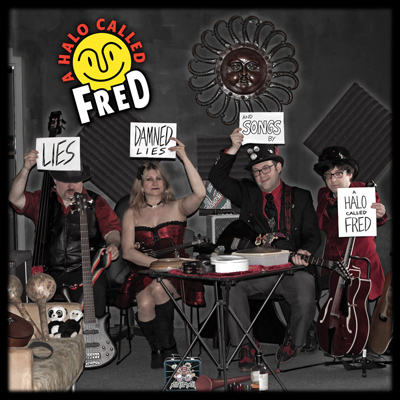 #
(PST)
Name
length
Rating
1
9:00
What Are We Reaching For?
00:15
1
2
9:00
Pignocerous of Spleebonia (Very Real Threats)
02:46
3
3
9:03
I Haz a Sad
02:49
3
4
9:06
Do You Seek Adventure?, Pt. I
00:30
1
5
9:06
My Monocle
03:32
3
6
9:10
That's an E
00:13
1
7
9:10
It's Not That Kind of Party
04:55
3
8
9:15
Touch-a Touch-a Touch-a Touch Me
02:28
3
9
9:18
Do You Seek Adventure?, Pt. II
00:32
1
10
9:18
Holy Shit, You Love Me
02:46
3
11
9:21
Cthulhu's Head Is a Great Big Squid
02:11
3
12
9:23
Take My Rock and Like It
01:46
3
13
9:25
The Most Annoying Singing
00:20
1
14
9:26
Suck My Haircut
01:41
3
15
9:27
Previously...
00:34
1
16
9:28
Aliens, Pt. II
03:12
3
17
9:31
Gravy Biscuits Dipped in Gravy
02:37
3
18
9:34
Love on the Day After the Apocalypse
02:37
3
19
9:37
It's All Aces Baby
02:05
3
20
9:39
Do You Seek Adventure?, Pt. III
00:31
1
21
9:40
The Murple's Magic Hat (Best Christmas Gift Ever)
04:38
3
22
9:44
This Will Not End Well
02:48
3
23
9:47
In the Long Dark Teatime of the Soul
03:19
3
24
9:51
Do You Seek Adventure?, Pt. IV
00:32
1