New Music show
Last Featured on this show January 2, 2017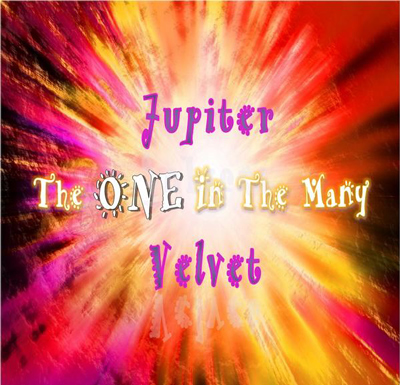 Jupiter In Velvet
"Only I Can Bring Me Down",
"Everyone's Looking 4 Something They Can't Find "
Who is Jupiter In Velvet and where is he from? The UK? Canada? The USA? That is the question many keep asking and speculating about. Jupiter In Velvet is a musical journeyman, American born, transplanted to the UK, and now calls home wherever he may be at the time. Initially starting off as a drummer at age 9, Jupiter played his first gig at age 10. In his teens he taught himself to play guitar, keyboard and singing, and began his songwriting development. His professional music career slowed down as he went off to college, getting a BA in marketing and an MBA in finance, before starting his PhD in finance. During his first semester working on his PhD, Jupiter stumbled into a chance trip to South Africa where he had an epiphany; Life was too short to place money in front of happiness and to not go after one's dreams. Jupiter came back, finished the semester, quit school and move to LA. He went on to play and tour for many years with a string of bands as lead guitarist and singer including: Zuzu's Petals, Woolton Parrish and 2MorroW EvR AfteR. Finally, after limited success, Jupiter moved to the UK to remake himself and merge his vast musical influences and interests to create something new, compelling and uplifting. And thus, Jupiter In Velvet was born. Today Jupiter In Velvet's music is played in over 65 countries on 6 continents.
In late 2012 Jupiter In Velvet released his debut album 'Screaming the Love Behind the Scars' to strong reviews and a noble amount of internet radio airplay, while quickly picking up a loyal group of fans. Here are a few quotes:
"In close, most famous artists out there have "it", I'm not so sure what that is but Jupiter In Velvet has whatever 'it' is." Michael Morrison, EVOR MAGAZINE, January 2013
In 2013 Jupiter followed his debut CD with an overall more centered effort called 'Shut Off Your Mind'. The title track generated over 300,000 downloads, (mostly free), that ballooned his twitter following and inspired more strong support from a growing base of internet radio stations, in addition to greatly enhanced attention from among music reviewers. 'Shut Off Your Mind's success propelled Jupiter to the top of the ReverbNation UK Rock charts, a spot he still holds. And once again the reviews espoused accolades for Jupiter In Velvet's excellent songcraft.
"Jupiter In Velvet displays a masterful mix of all genres, but his voice and amazing songwriter's touch are the highlight of it all " Michael Kula, GigBand, November 2, 2013
"I look at Jupiter In Velvet and I see a modern day version of David Bowie or even Paul McCartney" Loren Sperry - GasHouse Radio.com Oct. 23, 2013
Jupiter In Velvet continued his steady climb in 2014 with the release of his very popular album 'Glitter On The Sun'. Featuring a wide array of styles, colors and emotions, Jupiter In Velvet's vivid songwriting brought more accolades and airplay as more and more people turned on to his vibe, his warm and passionate voice, and his unique life perspectives. His music celebrates the old while embracing the new. Jersey Beat's Joe Wawryzniak had this to say:
"This is insanely enjoyable and energetic pop-rock done by a true master craftsman"
Gwendolyn Katz of Skope Magazine wrote:
"Ninety seconds into the first track "So Automatic" two of the first things crossing your mind are: 1) How undeniably infectious the music sounds, and 2) why the heck haven't I heard of Jupiter In Velvet before?"
Patrick Donahue, Indie Artist Alliance had this to say about 'Glitter On The Sun'
"Lyrics have an emotional impact and this man writes music like he's seen it all. All songs have messages worthy of your attention but you listen more than once to pick up on it"
It is 2015 and rock's most reclusive master songsmith is back with his most powerful album to date. 'The World Didn't Start With U' is edgier, more powerful and poignant, yet accessible on multiple levels. The first review from Jersey Beat's Joe Wawryzniak had this to say about 'The World Didn't Start With U':
"One of the most thrilling and inspired pop-rock musical artists of the early 21st century scores himself yet another bull's eye with his terrific latest album."
'The World Didn't Start U' is going to shift the meter and change the conversation in the music world, and surely spring Jupiter In Velvet on to a much bigger stage with a broader audience. Jupiter In Velvet has something to say. Something that needs to be said. We hope you're listening...
Notes for the artist: This page will always be here under your name in "Featured Artists"
You can always send us an updated Bio using 'CONTACT' on Menu at the top of page.