New Music show
Last Featured on this show January 25, 2017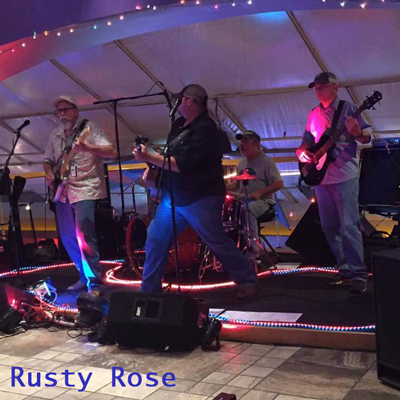 Rusty Rose - "I don't have a chance"
Rusty Rose, Red Dirt Band from Webster County Missouri. The band began in 2004 as a country band in Branson, Mo. Roots from Oklahoma and California Country-Rock led listeners to begin defining them as having a "Red Dirt" sound... contagious. The four piece band which consists of JC Davis on vocals, Larry "Electro" Crandall, Lead guitar, Danny Hauer, Bass and Russ Butler on Drums has performed with and or opened for
many top acts including, Cody Johnson, Craig Wayne Boyd, Kaleb Mcintire and the Cole Porter Band. They have performed at Jack Mountain Amphitheater(Diggins, MO), Apache Casino (Lawton, OK) Ole Bronc's (Diamond, MO) Shrine Mosque (Springfield, MO) Royal 66(Mountain Home, AR). The band has recently recorded 2 new songs, "I Don't Have a Chance" and "Oh How I Miss You," have already had some airplay even though not officially released yet. They have recorded 3 albums all independently , their latest, "Just Wait," is their first to be released on Apple iTunes, iheart radio and Spotify. Song "Get My Shit Together," and "Red Dirt Friday Night" are a couple songs Rusty Rose Fans have come to recognize. Red Dirt for sure! Rusty Rose is a band that you need to check out.
Notes for the artist: This page will always be here under your name in "Featured Artists"
You can always send us an updated Bio using 'CONTACT' on Menu at the top of page.