New Music show
Last Featured on this show April 1, 2017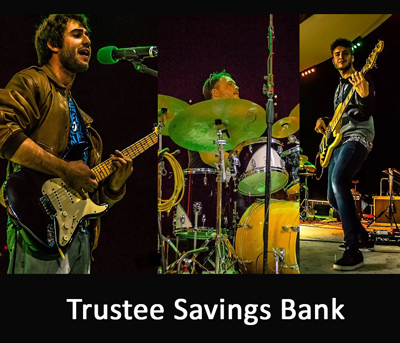 Trustee Savings Bank - "Hear No Words"
Trustee Savings Bank are a 3 piece alternative indie rock band from South Florida.The members include Jesse Balber Lead vocals & lead guitar, Michael Martin N'Dong backing vocals & bass guitar & Thiago Medaljon on drums.They write & perform their own original brand of music at live gigs in the Miami/ Fort Lauderdale area. Venues include Churchill's, PRL & Wynwood Warehouse Project among others.
The band was formed in 2015 by Jesse,Michael with then drummer Jorge Pardo.Since Jorge's departure in late 2015 the band have had several drummers perform with them but were happy to announce in June 2016 Thiago as their latest permanent addition.The band's songs are tinged with many influences from many genres of music from Rock,heavy metal,indie & punk to funk, jazz & blues.
Both Jesse & Michael have been musicians through their school years and in addition Michael is a music major @ Broward college.The band have released a series of singles with the intention of producing their first EP. But as their body of work has grown with a loyal and rapidly growing fan base, they're looking forward to releasing their work as an album in spring 2017 instead.
Notes for the artist: This page will always be here under your name in "Featured Artists"
You can always send us an updated Bio using 'CONTACT' on Menu at the top of page.