| | | | |
| --- | --- | --- | --- |
| | | Kick the Clown | |
Full Album show
of December 20, 2018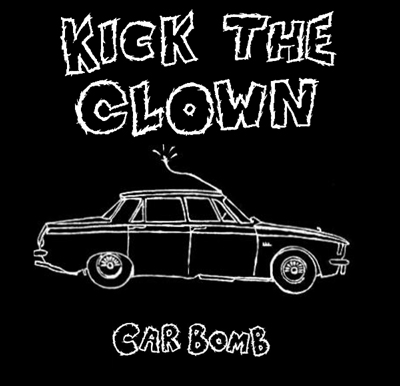 "Kick the Clown are a 4 piece alternative rock/punk outfit from Worcester and Cardiff. The band was formed in 2016 and consists of White Noise (George Ormerod, vocals), Guisseppè (Matt Tyler, guitar), Strange Dog (Joe Cummings, drums) and Sour Mash (Dan McLaren, bass). In the last two years, the band has built a strong following in the West Midlands through constant touring and sharing stages with Karkosa, Soeur, Ivory Wave, The Cosmics, The Dickies, The Ramonas, Fight and Fires, and Straight for the Sun among others. Their presence has been praised as "loud", "energetic" and "in your face" but it is not enough to fully describe the essence of the group. They combine swagger, rare charisma and DIY ethos to create controlled chaos on stage. The band claims every inch of the floor as their own, bringing wild melodies, shouts, sweat, pain and clown masks to enthral the audience and drags them (kicking and screaming) into an alternative musical dimension. Mixing a variety of genres such as old school punk rock, hip-hop, metal, hard core and even jazz, Kick the Clown are becoming a phenomenon on the indie circuit. They released their debut 6 track EP "Car Bomb" at the O2 Academy in Birmingham in late 2017 and a double A-side single "39 Steps/No Way Out" in 2018. In November 2018, they were featured on Public Pressure's first "Subcultures #1" cassette tape documenting the best emerging artists in the punk underground. The band is currently working on new material to be released in 2019.
Kick The Clown are coming and are getting rowdier with every show.
You have been warned!
Car Bomb EP (2017)
6 sounds written by angry children.


| | | | | | | | |
| --- | --- | --- | --- | --- | --- | --- | --- |
| # | Pacific | | Time | Name | length | Rating | Notes |
| 1 | 8:00 AM | & | 8:00 PM | Leeches | 01:51 | 3 | |
| 2 | 8:01 AM | & | 8:01 PM | Killer Clowns | 02:57 | 3 | |
| 3 | 8:04 AM | & | 8:04 PM | Car Bomb | 02:57 | 3 | |
| 4 | 8:08 AM | & | 8:08 PM | Fax Machine | 02:44 | 3 | |
| 5 | 8:10 AM | & | 8:10 PM | Gobshite | 03:51 | 4 | |
| 6 | 8:14 AM | & | 8:14 PM | Don't Want To Know | 03:51 | 3 | |