Featured Artist
of January 27, 2019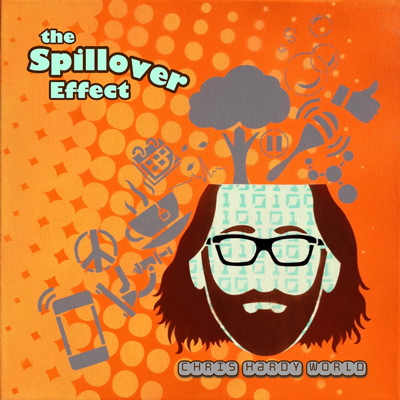 Chris Hardy is not your typical singer/songwriter. For starters, his instrument of choice is the rarely-seen "acoustic piccolo bass guitar", which he refers to as his "4-stringed little friend". It's an Alvarez MSB1 travel bass that's been strung as a piccolo bass. And the subject matter of his songs these days is more about happiness and seeing the bright side of things because, as Chris puts it, "there are already enough miserable songs out there."
A member of the Augusta, Georgia music scene since he left the 434th Army Band at Fort Gordon in the 80s, Chris has achieved a few interesting things.
Some noteworthy accomplishments are: His duo "3 feet up" with his wife & drummer Victoria, was featured on the CBS Early Show in 2006. And in 2014, Chris was voted "Best Of Augusta" by the readers of Augusta Magazine in the "Best Male Vocalist" category. Local music magazine/blog "Lokal Loudness"
named an award after him because he won it so many times in a row (with his band "Nervous Boy") in the 90s. Then after moving back to Augusta, he won the award for favorite solo artist in 2014 and a year later, he won his own award (the "Chris Hardy Award for favorite lokal bassist"), also winning the award for 2015 best local album as well.
Chris' music is often hard to describe in words, but he likens it to "the sound you would hear if Beck jumped onstage with Steely Dan and played a Cake song".
Rock, pop, indie, jazz and lounge styles all make appearances in his songs.
He's released 8 full length CDs since 2012 (as well as playing all the instruments on all of them), has just started a weekly youtube series "The Song Lounge", and has no plans for slowing down, much like his musical hero, British solo artist Robyn Hitchcock.
| | | | | | | | |
| --- | --- | --- | --- | --- | --- | --- | --- |
| # | Pacific | | Time | Name | length | Rating | Notes |
| 1 | 8:00 AM | & | 8:00 PM | Underwater | 03:22 | 4 | New song |
---

Notes for the artist: This page will always be here under your name in "Featured Artists" You can always send us an updated Bio using 'CONTACT' on Menu at the top of page.