Full Album
of

February 9, 201

9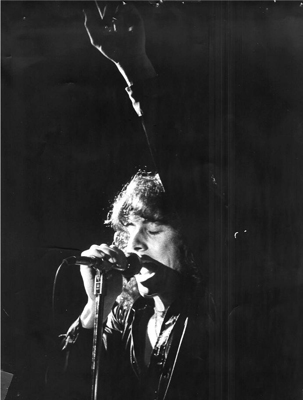 The story of
Mariner
begins in Dearborn Heights, Michigan with guitarist Bob Okonowski and drummer Gordie Roedding who were in a band called Tangents with neighborhood friend Dave Griffith. In 1968 bassist/vocalist Pat Mezza was brought into the group, which then became known as Fourth Chapter. In 1970, differences between Griffith and the rest of band led to him being replaced by Annapolis High classmate Jimmy Henterly. A Catholic grade school friend and bandmate (The Paramounts) of Pat Mezza named Mike Smyt would be added in 1972. Smyt had been coming home on summer breaks and jamming with the band, but didn't officially join until '72.
In 1976-77 Livonia, Michigan resident Charlie Block replaced Smyt, who left to pursue a more stable career. Fourth Chapter was easily booked into all types of clubs because of their musical diversity. They won local battle of the bands and radio shows in Detroit and sold-out shows throughout the Midwest and Canada. In 1979 the bands manager, Dave Paget, did a survey of band names in Canada and the winner by a large margin was
Mariner
. The band left behind the Fourth Chapter moniker and entered a new era as
Mariner
.
1980 would find the act beating out 700 groups from around the U.S. in a battle of the bands, their prize for victory was a two month gig in Osaka, Japan. The band became a sextet again with Smyt rejoining the group just prior to their jaunt overseas.
Mariner
would be the christening act to play the new 1,000 seat dance club Shiko Chain (loose translation the Bottom Line). The band would enjoy two half-hour sets a night, free hotel accommodations, $5,000 a week and superstar treatment.
The band also used their time in Japan to fine tune original material. Shortly upon returning to the States they would enter Multi-Trac Recording Studios in Livonia to record their first album.
Mariner
had various major labels interested but nothing panned out so 1981's 'Sweet Horizon' would be released on the independent Tidal Wave Records. The record featured an excellent cover of the Chilliwack song "Fly At Night".
Mariner
toured continuously, opening shows for the likes of Steppenwolf and The Joe Perry Project. Sweet Horizon's original pressing of 1,000 copies sold out immediately and the album received substantial radio airplay regionally but it still failed to break the band nationally.
In 1983
Mariner
released a self-titled four song EP, again on Tidal Wave Records, which would see the band's music headed in a more melodic rock direction. Tracks like "Make Me Baby", "Don't Get Fooled Again" and "Lady's Touch" were excellent rockers which would once more find major labels interested, but again nothing transpired. What has to make one scratch one's head is the other cut on the EP, "Let Your Love Show Thru", was a sure fired hit that would have gone over well with the MTV crowd from that time period. "Don't Get Fooled Again" was written by Canadian Tim Thorney, who would go on to work with Alanis Morrsette among many others. Shortly after the records release Mike Smyt would leave the band permanently.
The band continued on, exploring different musical directions along the way. When Roedding left the band in 1985 he was replaced by Randy Skiver and the band became more of a glam outfit. A few years later Skiver was replaced by Bruce Kreiter and
Mariner
became the straight ahead hard rock band that so many remember. Steve Firneno took over for Kreiter in 1990 and stayed with the band until they're final show sometime in the early 90's.

Mariner
would resurface in 1995 with song placements in two HBO movies 'Stranger By Night' and 'Animal Instincts III'.
In 2001 Pat Mezza,
Jimmy Henterly
and the other members signed a deal with an L.A. Company that places songs in television and movie soundtracks. The group then chose to remaster the large catalog of tunes that
Mariner
had amassed over the years. This would serve two purposes, the need to fulfill the placement company's request for some of the tracks without vocals and the bands desire to preserve their music, as recording tape degenerates over time.
Mariner
has had songs placed in shows like 'Cold Case', 'Reunion' and 'Hack'.
Because of renewed interest in the group Henterly and Mezza decided to release the remastered 'Sweet Horizon' record on CD, with bonus tracks. Also in 2003 they decided to release two more albums worth of
Mariner
's restored material. 'Make Me Baby' was made up of tracks from the EP period, some of which had been re-recorded in 1988.
The third disc the band released in 2003, 'American Maniacs', was from recordings they had done in 1999. The lineup that played in these sessions would be
Jimmy Henterly
, Pat Mezza, Bob Okonowski, Bruce Kreiter and Dave Bradley. "Mystery Man" was written by Dick Wagner, who played guitar in Alice Cooper in the mid 70's. The track had formerly been released by the Michigan based Frost, which was Wagner's original band. Wagner also played the middle guitar solo on the
Mariner
version. Dave Bradley, a friend of the band, lent his guitar skills to the recordings. Bob Okonowski had been previously diagnosed with Amyotrophic Lateral Sclerosis (Lou Gehrig's disease) but still had the use of his hands at the time of these sessions. Sadly, Bob lost his battle with ALS and passed away on May 23, 2003 (R.I.P.).
In 2005 the band had their song "Don't Get Fooled Again" included on the 'Melodic Rock Is Back Vol. 7' compilation from the German internet radio show Munich's Hardest Hits.
On August 6, 2005 Henterly, Mezza, Roedding, Smyt and Block hit the stage as
Mariner
for a reunion show at the Allen Park Street Fair in Allen Park, Michigan. 5,000 fans got to jump in a time machine with the band and go back to a time when Rock N' Roll was...well....Rock N' Roll. The show was a huge success and hopefully not the final Chapter in the story of
Mariner
.
Present day finds Mike Smyt working in the auto industry, Charlie Block and Dave Bradley are graphic artists, Gordie Roedding works at Northwest Airlines and does freelance artwork, Pat Mezza and
Jimmy Henterly
are currently in the telecommunications industry and are writing songs for a number of artists including Michigan native Tanya, who has the ear of a number of big players including Universal Music.
Mariner
CD's can be found at CD Baby.

Links: Buy Mariner @ CD Baby.
Album: jimmy from Detroit (2018)
| | | |
| --- | --- | --- |
| 1 | You're Gonna Like it | 02:05 |
| 2 | Goin to the Party | 01:42 |
| 3 | I Love your Dirty Look | 03:12 |
| 4 | Quarter to Four | 02:18 |
| 5 | If Love could bring you back to me | 03:32 |
| 6 | Another Hit to the Heart | 02:38 |
| 7 | Rock me , Till your ready to Roll | 02:52 |
| 8 | Vinyl Records | 02:54 |
---

Notes for the artist: This page will always be here under your name in "Featured Artists" You can always send us an updated Bio using 'CONTACT' on Menu at the top of page.