xA Band Called Paulx
---
Featured Artist of February 29, 2020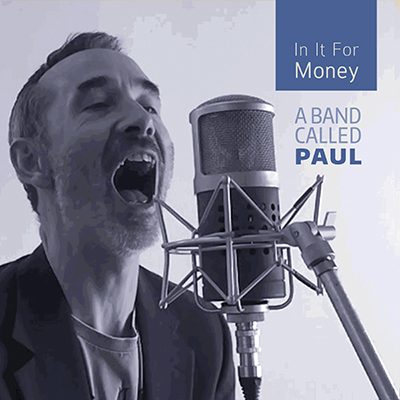 with the song: In It For Money

"In It For Money" is the third single to be taken from Irish indie rock act A Band Called Paul's debut album "Primero" (2019). The track has been specially reworked and remixed for this release.
A wry slice of 60's beat-in_uenced indie pop/rock, the track addresses the stage in a creative artist's career when their initial idealism is overtaken by commercial reality and the need to make a living.
Upbeat and cinematic in texture, "In It For Money" showcases the infectiously catchy, radio-friendly side of indie music.
Its accompanying music video can be viewed here:
https://youtu.be/pA4Vyu_Nv6s
The single is available to purchase/stream on all major digital music platforms from Monday, February 24th.

ABOUT A BAND CALLED PAUL
Based in Dublin, A Band Called Paul is the creation of former orchestral percussionist, soundtrack composer and session musician Paul McDonnell. The band's music re_ects the variety and depth of Paul's musical career with deft lane changes between hard rock, latin jazz, electronica and world music.
A Band Called Paul released their debut album, "Primero", in February 2019. They have released two singles from the album to date - the latin jazz "Hero Two" (https://www.youtube.com/watch?v=_CrOgzj3JBQ)
and the darkly electronic "Freefall" (https://www.youtube.com/watch?v=cIW450wY3AQ).
The band's sound has been described as if Depeche Mode, Nine Inch Nails, The The and Beck were to collaborate.
More information is available on the band's web site - abandcalledpaul.com

Debut album "Primero" now available on Spotify, Bandcamp, Apple Music, Google Play and Amazon Music.
https://open.spotify.com/album/1WhNad9cuOwBD1ctWTmmAn
Web: https://abandcalledpaul.com
Email: hello@abandcalledpaul.com
Twitter: https://twitter.com/aBandCalledPaul
.
---
Notes for the artist
: This page will always be here under your name in "
Featured Artists"
You can al
ways send us an updated Bio using 'CONTACT' on Menu at the top of page.
---

© LonelyOakradio.com