---
Full Album show of April 24, 2020
Album: Singles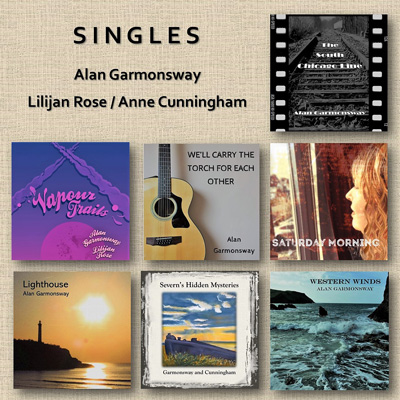 Alan is a songwriter and musician from the UK. He writes and records, often solo, and sometimes collaborates with other vocalists and musicians. Alan plays a combination of piano, keyboards, acoustic and electric guitars, bass and drums on his tracks and often vocals as well. He has a range of songs played on Lonely Oak Radio and creates a wide range of music, probably best described as acoustic based rock.

About the Album:
Over the past year I've been writing and recording a number of singles, both solo and also collaborating with vocalists, and it's great to share them with you. They have been written and recorded in 2019 and 2020, except for the rst track which is a bit earlier but recently remastered and they cover the genre of acoustic based rock. The South Chicago Line is a song tracing the demise of steam trains (and their workforce) as diesel trains took over in the 1930s. Vapour Trails is my rst collaboration with vocalist Lilijan Rose, and was written about all those people in the sky at any one time; well, before the current viral crisis anyway. We'll Carry the Torch for Each Other continues that theme and was written only a couple of weeks back and recorded in my improvised isolation studio (ie Bedroom 2). It's just in response to the enforced isolation musicians are feeling alone right now. Saturday Morning is an older song, but really tted Lilijan's voice, so that is now our second single on release. She brought a new freshness to the whole feel of the song. Lighthouse I wrote and recorded after a trip to Biarritz seeing their incredible structure warning the ships. It made me think about who are the lighthouses I depend on in my family. Severn's Hidden Mysteries is a follow-up single to the Ridgeway album, with Anne Cunningham featuring on vocals. She inspired the song with her photographs of her walks along the River Severn, and the stories in particular of a tragic barge collision long ago. The barge wrecks are still there for all to see as a warning. Finally, Western Winds is a song inspired by the storms in the UK in January, and where the winds maybe taking us in the future.
All these are available on download and streaming sites. They cover some of my different approaches to songwriting and where I am right now. I hope you like them, and thanks for listening.


---