Art Bergmann
---
Featured Artist of Nov 3, 2020
with the song: Christo Fascists

Art Bergmann Collaborates With MC5's Wayne Kramer and Drops 'Christo Fascists,' an Election Elixir!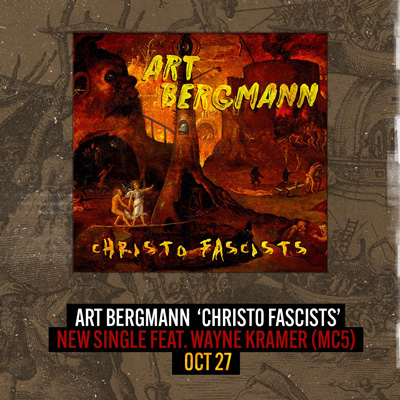 Art begins his latest battle cry in the year 1968 and invites then Democratic Convention performer Wayne Kramer of the MC5 aboard to nail the point home. With a bloodstained sweep across the plains he brings us to the heartland and south. Upon arrival in the here-and-now, we're asked to take a long, hard look at ourselves.
Art's works have never been created to offer comfort. Instead, the Juno Award winning writer approaches everything with a sense of purpose that forces introspection and realization. "Christo Fascists" is a poignant photograph of a society teetering on the brink of collapse after following a well documented path of institutional racism and economic plunder.
Crafted in response to the daily drumming of cruelty mettled out by those who hold the reins "Christo Fascists" exposes the lies for what they are. Seething with anger, the song is splattered with distortion and heaves with the knowledge of the pain that indivduals currently face each day. The intensity of Art's vocal, bridges perfectly with Wayne's stabby and punctuated lead guitar. Producer Russell Broom (Chixdiggit, Jann Arden) delivers a track that's bashy yet dynamic.


---
Notes for the artist
: This page will always be here under your name in "
Featured Artists"
You can al
ways send us an updated Bio using 'CONTACT' on Menu at the top of page.
---

© LonelyOakradio.com