Full Album show of March 13, 2020
Album: A Matter of Time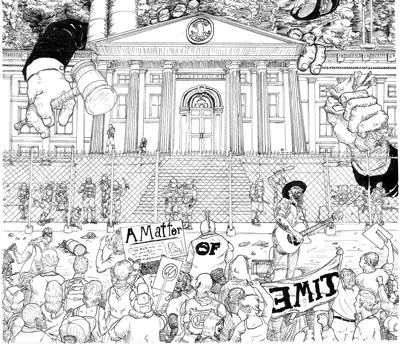 Heart & soul. Passion & grit. Freedom of expression & the triumph of the human spirit.
Black Suit Devil represents all of these things.
With a tongue-in-cheek name meant to pique the curiosity and a tenacious DIY approach, Black Suit Devil has been spreading inspiration and awareness through music since 2015.
A Solo project led by Singer/Songwriter Andy Du Rego of Brantford, Ontario who's style has been likened to that of Ray LaMontagne, Tom Waits, Neil Young and Chris Cornell.
With his melodic and thought provoking songwriting inspired by the Folk, Rock, Blues & Soul genres, Andy has moved crowds with his signature raspy self-harmonizing dual vocals. Black Suit Devil has toured all across Canada and has been apart of such festivals as Harvest Jazz & Blues , Living Roots Music Festival, TD Newmarket Music Festival, Winterfolk XVII, and the Guinness World Record for Longest Concert by Multiple Artists.

About the Album: "A Matter of Time", the second full length studio recording by Black Suit Devil was released November 15, 2019 gaining high reviews on Spill Magazine, Canadian Beats and Great Dark Wonder and is currently charting in the Top 10 Folk/Roots/Blues Albums & Top 30 of the week on several independent Canadian Radio stations on the !earshot charts. The album is also on frequent rotation on CBC radio, Blues Roots Radio, Valley 89.5, and 88.7Hunter's Bay Radio among others.
With an eclectic mix of sounds ranging from Folk, Blues,70's Rock n' Roll, New Orleans Big Band to soulful Ballads and upbeat Bluegrass, "A Matter Of Time" shows the strength and versatility in Andy Du Rego's songwriting.
The subject matter which touches upon environmental issues, politics, human rights, mental illness, to love & loss and so many things in between.


---