---
Charlotte Rutter
---
Featured Artist of October 18, 2019
with the song: Butterfly

Butterfly …..The story behind the song…..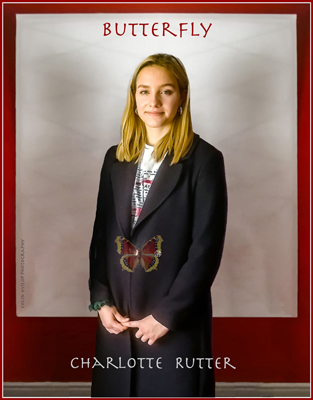 In March 2019 Scott Nicol met Eileen Dong for the very first time in Houston Texas. He was struck by her story and her heart of compassion for victims of abuse and trafficking. He was very impressed and touched that she had her own Non Profit organisation called 'Hope PYX Global'. Scott was on tour in Houston singing and was doing a little promotion for the song 'Hope for Justice' so when he met Eileen his ears were wide open. When he returned to Scotland they kept in touch and he decided to write a song based on Eileen's story. Eileen sent her testimony about being a survivor of Domestic abuse and Scott edited her own words into the song 'Butterfly'.
He knew it needed a female vocalist to sing 'for' Eileen as the song is her story so he asked an amazing young singer Charlotte Rutter to be the lead vocalist. As you can hear she did a fantastic job and sings so wonderfully on the track. He also asked Unoma Okudo to provide backing vocals. Scott had worked with her before and certainly asked the right person because she added so much depth and beauty to the song. He also played on the track, but his good friend Samuel Gallagher from EssGee Productions kindly agreed to Record, mix and play many instruments on the song. After the mix they needed the artwork for the single and the brilliant artist Katie Johanna designed the cover. Rissadh Mudden collected all the parts together to make it available for worldwide download and Colin Hyslop also provided his expertise for the promotion pictures. So you can see a fantastic array of skilled people are behind 'Butterfly' and we wish Eileen and her team every success on the release of the song and may it help to further the great work of Hope PYX Global…..
Scott Nicol Oct 2019. http://www.hopepyxglobal.org

I wrote this song Butterfly..after hearing the story of a domestic abuse survivor who set up her own Non Profit Charity to help others and got Charlotte Rutter on lead vocals.

---
Notes for the artist
: This page will always be here under your name in "
Featured Artists"
You can al
ways send us an updated Bio using 'CONTACT' on Menu at the top of page.
---

© LonelyOakradio.com