David Clifton
---
Featured Artist of April 19, 2022
with theEP: Marble City Skyline


Artist's Biography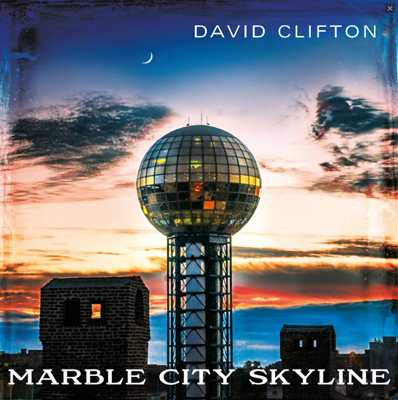 MARBLE CITY SKYLINE - David Clifton Little Room Recordings LRMDCD.

David Clifton - Biography

David Clifton creates records and produces music in multiple genres including indie folk, ambient abstract guitar, modern sacred and spiritual music, new simplicity (piano, guitar, string quintet) and choral music.

Formerly signed to Virgin Records with Sensible Jerseys, championed by legendary BBC radio DJ John Peel, he went on to play guitar for some of the UK's most respected artists, including Julia Fordham, Steve Booker, Tanita Tikaram, and Mary Coughlan.

His session work over the years has featured on recordings by artists as diverse as Helen Watson, Delirious, Kim Hill, Tanita Tikaram, Paul Heaton (Beautiful South), Madness, Steve Booker, Matt Redman, Julia Fordham, Robin Mark, and Mickey Harte, amongst others.

Interesting fact! - Marcus Mumford used to play drums for in his church band when they lived in London.

About the Album

MARBLE CITY SKYLINE - David Clifton Little Room Recordings LRMDCD18

Marble City Skyline 2020, is a new folk. country Americana album - something different, with a fresh and unique sound. Music to truly touch the heart and soul! It will complement every mood and atmosphere of a programme, day or night. There is something for everyone.

It is a spell-binding recording, and has received incredible reviews in Canada, the USA and the UK in its first weeks of release. Enjoy a musical journey of wonderful songs, born of experience and reflection on the deep journeys of life, and the passions of heartfelt hope, love and loss. The album was recorded and mostly written in Knoxville Tennessee, often known as the Marble City because of the early marble industry. It is a city filled with music history, and a vibrant music culture.
Our lives on earth are precious adventures, filled with wonder, joy, sorrow, expectation, happiness, love, sadness, fulfilment, gift and disappointment. We share this walk with loved ones, our family and friends.

We enjoy the special times, and we celebrate the temporary; for in truth that is all we have; life changes fast.
Every track will delight and inspire you and your listeners. You will not be disappointed.



---
Notes for the artist
: This page will always be here under your name in "
Featured Artists"
You can al
ways send us an updated Bio using 'CONTACT' on Menu at the top of page.
---