Duel Of Sins
---
Featured Artist of July 15, 2020
with the song: MeMeMe

Artist's Biography: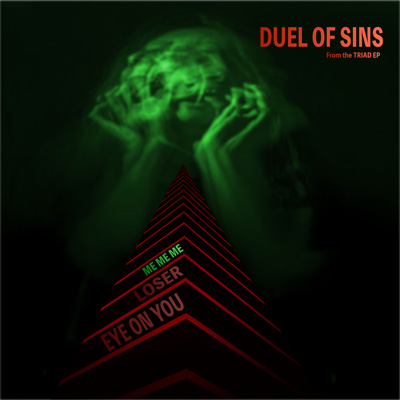 Molly Rubin and Quinch have both been making music independently for years until one day in 2019 they met up at a sober early morning rave in Manchester. Over a couple of kale smoothies and a vegan sausage butty they cooked up an exciting new collaboration and called it Duel of Sins.
One year on and their first EP release -Triad - is due to land in September. It explores the concept of the Dark Triad of personality disorders, from Eye On You (a twisted dance epic about psychopathy), through the ear-wrenchingly annoying, poppy hook-lines of the Machiavellian Loser and finally ending up with the deeply disturbing Narcissistic self-indulgence that is MeMeMe.
In their past lives, Molly and Quinch have a long history of releases and projects.
Molly has collaborated with top Costa del Sol artist Mr Maph and has jazz-based, rock, pop and dance releases. She has performed at festivals and venues in London and Spain such as jazz nights at The Clarendon Hotel and Mycenae House, South London, White Lounge Bar in Málaga, Marbella Arts Festival and Libertad 8 in Madrid. She is one half of the outfit Coati Causeway along with Sean Bennett and has an album of covers ranging from Tom Waits to Morcheeba. She loves the co-creative process and is particularly excited to be delving Duel of Sins.
Quinch likes to lurk in the shadows and drive the tech. Originally a guitarist he fell in love with computers as soon as they were able to make a noise and spent the latter part of the last century working on his artgoth electronic concept project HashCrime. More recently he's played in Yorkshire bands Chasing Glass and Stone Dogs as well as orchestrating an online, virtual collaboration called The Quinch Experiment.
Duel Of Sins were looking forward to launching themselves into some gigs this year but with 2020 being what it is, they're going to keep focused on recording and spreading the word online until 2021.

---
Notes for the artist
: This page will always be here under your name in "
Featured Artists"
You can al
ways send us an updated Bio using 'CONTACT' on Menu at the top of page.
---

© LonelyOakradio.com