Full Album show of November 3, 2019
Album: Hand Me Down Blues

The Durham County Poets are a lively and soulful group who have written and performed an eclectic blend of blues, folk, gospel.
With three albums under their belt, they are now poised to release their 4th Album, HAND ME DOWN BLUES released on September 20, 2019. This dedicated blues album with both original compositions and covers of their favorite blues artists is sure to tickle the ears of blues lovers everywhere. And with producer Bill Garrett taking the helm, you know the "Poets" are in good hands!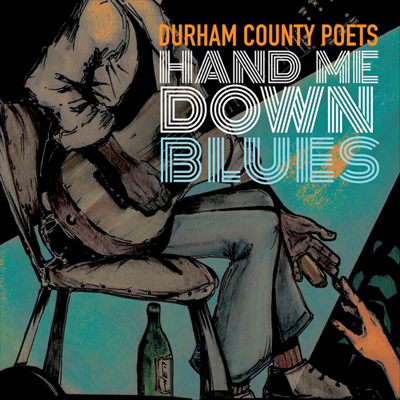 They are five seasoned musicians/songwriters working individually and collaboratively... Their obvious joie de vivre is reflected in the good times audiences have felt consistently since their 2011 début.
Intrepid leader Kevin Harvey, confined to a wheelchair since 1981 is the lead vocalist, and with the help and support of his bandmates has led the group on countless tours throughout Canada and the US, at festivals, concerts, clubs, dives and even castles...
So be sure to check it out for yourselves!

About the Album
"I went to my first blues concert with three of my best friends in 1981. We had tickets to see Muddy Waters at the Spectrum in Montreal. When I entered the venue, Muddy's signature guitar riff was ringing in the air and spilling into the lobby, so we all hurried down to the front of the stage. I was awestruck. I was a 19-year old young man in the presence of a master! I planted my elbows firmly on the stage, as if to stake my claim, and looked Muddy square in the eye… I placed my hand on his shoe, too. Muddy looked at me and winked, as if to say, 'welcome to the blues, son."Fast forward to 2012 and beyond, and Harvey — along with David Whyte, Neil Elsmore, Carl Rufh and Rob Couture, all hailing from Ormstown, Quebec and its surrounding Chateauguay Valley — have Durham Country Poets and previous releases, Grimshaw Road (2017), Chikkaboodah Stew (2014) and Where The River Flows (2012) to show for it.
"I didn't know while at that Muddy Waters concert I would have a life-altering spinal cord injury three months later. That experience — and seeing Muddy — made blues come alive to me.


---