Eric Val
---
Featured Artist of March 18, 2020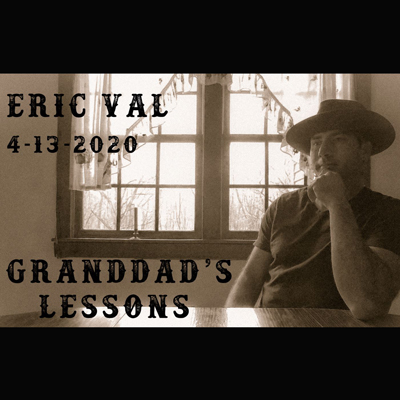 with the song: Grandad's Lessons

"Diverse Music with a Hard Rock Edge," or "Diverse Rock" sums up Eric Val's music career. This hard rock solo artist comes from Williamsport, PA, that was inguenced by bands like Sevendust, Shinedown, Marvin Gaye, Garth Brooks, Eric Clapton, Stone Sour and Seether. He has a classically trained voice that helps him propel his sound and style far above the rest. His writing style is as unique as his voice.
With the release of the debut album '3 Year Struggle' August 31, 2012, the world got to see a small taste of what Eric is all about. With 13 original tracks, it is available exclusively at ericvalmusic.com, along with itunes.com, amazon.com, and cdbaby.com. The album demonstrates his diversity, honesty and passion for his music. The frst two singles 'High Above You' and 'Pull Me Under' showcase his pop sensibility and the rest show the diversity.
The next recording was released in September 2013 debuting the rock/pop single 'Beauty Queen'. The song exemplifes a mixture of heavy guitars, groove drumming and smooth vocals. Another single was released, 'If You Only Knew', in July of 2014, and comprises a mixture of acoustic guitars, electric solos and fast paced drums.
Then in 2015, came Beautiful Lie a mixture of rock, country and classical music with a smooth melody and voice.
The sophmore album My Gift, My Curse, released on November 18, 2019. In short, it the most diverse rock album ever, featuring 14 dicerent musicians playing over twenty dicerent instruments on the album. Ranging from rock and metal inguence to classical and country tones. The frst single Tragedy will start it oc and is released. A mixture of rock, country and classical music with haunting lyrics and melody. It is dedicated to the ones we've lost, the ones left behind and the acect it has on us.
Inspired by the people we've lost due to suicide and drug overdoses. All the proceeds from the song will be donated to the Recovery Awareness Connection, an organization dedicated to recovery of those with drug abuse and mental illness. Two other singles have been released as well groove metal melodic My Own Hell and jazz rock fusion The Past. Along with the singles Slow Decline an R&B, Rock and classical piece and hard rock tribal Faded Memory.
As for what's next? On Monday, April 13, 2020, Granddad's Lessons, a country-rock single mixed with a touch of classical, will be released. Featuring killer country music musicians Roy Peterman (Peddle Steel) and Richard Rupert (Fiddle and Mandolin) with a touch of diverse rock. Stay tuned.

---
Notes for the artist
: This page will always be here under your name in "
Featured Artists"
You can al
ways send us an updated Bio using 'CONTACT' on Menu at the top of page.
---

© LonelyOakradio.com