Frozen Factory
---
Featured Artist of November 28, 2019
with the song: I remember it too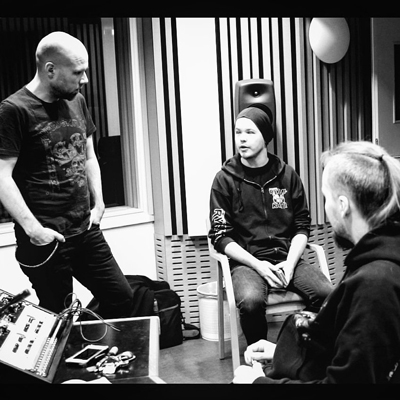 Frozen Factory starts from a moment of spontaneity in December 2018 as four men and a sound engineer (yes ok he's a man too) convened in central Finland to celebrate the splendour of a free weekend in a studio. There was no real plan and no expectations laid out on the table, only the rumours of good music penned by Tomi Hassinen, a composer, bass hero and multiinstrumentalist.
Tomi and drummer Eetu Pesu, already bandmates in another project, had enlisted the help of Tomi's old pal Asa Nyman and online treasure Ozzy Slant to respectively lay down guitars and vocals. With engineer Oskari Viljanen ready to capture the action the guys set about tracking as much as possible and shooting three music videos over the two days with videographer Läpä Koivusalo.
Days past after returning to their homes in the south of Finland and the four
weren't completely sure what they'd created in that enclosure several hours drive up north.
Ultimately however, as the results formed into a 3 track single entitled 'Frozen Factory', the heart of the project in Tomi and Eetu was energised and they were convinced that their future was as a band. Asa and Ozzy had not been available to continue from this point, so whilst the record was readied for release in March 2019 the two founding members of Frozen Factory searched for their new bandmates. The release of singles 'Ruthless' and 'Stay Forever' on YouTube coincided with an online search for a singer which was almost immediately answered by British singer Steve Baker who heard the tracks and felt inspired.
After a brief meeting at Steve's Helsinki home in early April 2019, he and Tomi realised quickly that they were destined to team up. In the following hours and days, waves of productivity flowed between the two and the first demos of new material began to take shape. As a new sound formed, the trio of Tomi, Eetu and Steve forged plans to make Frozen Factory's debut album and started recording drums in the late spring. Guitarist Mici, a long time friend of Tomi and motivating character, was added to the picture during the summer. From this point on our fresh and solid four piece has been polishing the songs, recording the parts and shooting music videos with an eye on an early 2020 release for the album. There's an air of confidence that this topically themed set of tracks will evoke a strong reaction in listeners with their diverse moods and strength of words. Frozen Factory is poised to make a meaningful statement with a memorable and repeatable musical experience.
2020 will also see the band bringing new material to the stage. To be continued….

---
Notes for the artist
: This page will always be here under your name in "
Featured Artists"
You can al
ways send us an updated Bio using 'CONTACT' on Menu at the top of page.
---

© LonelyOakradio.com