---
Garmonsway, Gibbon and Harrington
---
Full Album of June 8, 2019
Album: Northeast

Artist's Bio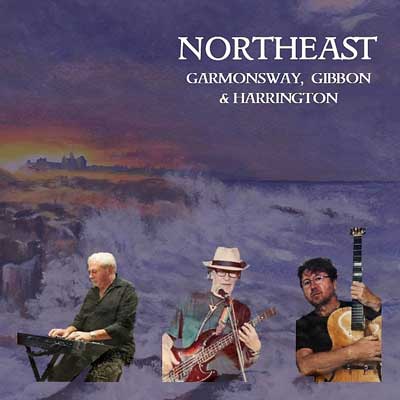 'Northeast' is a new ep from three musicians with strong connections in the Northeast of England.
Songwriter Alan Garmonsway plays keyboards and acoustic guitar in his own bands as well as solo performances, and now focuses on song writing and recording. His songs capture both the acoustic and rock Flavours of his upbringing.
Franky Gibbon is on bass, guitars, keyboards, percussion and also recorded and produced the album.
Franky is much respected in music circles, having played bass originally with Northeast bands Brass Alley & Beckett. He has been involved with a huge list of international artists including Rod Stewart, Paul Weller and Jimmy Nail. Coincidentally he had the same music teacher as Alan, Alan's Grandfather Mr Shenton who was church organist and choirmaster for many years!
Al Harrington from Teesside also joins on vocals, providing a unique style and approach to both his vocals and playing. Also a guitarist, he plays many rock, blues and jazz gigs in the Northeast region, and has worked with some top artists such as Paul Rodgers.
About the Album
Combining rock, acoustic and other influences, their 'Northeast' ep touches on different emotions; the acoustic 'Our Heroes' reminiscing the innocence of young concert-goers (in Alan's case, the City Hall, Newcastle), 'Industrial Gypsies', a story of shipyard closures and their impact on family and friends, and 'Last Dance Woman', with its end-of-the-evening emotions.
The Northeast flavour continues as the visuals used for the album are all paintings by one of Alan's old school friends, Ali Davis, who regularly has exhibitions across the Northeast region. Also appearing on the album is Martin Peel, playing saxophone on 'Our Heroes' and some other Northeast musicians.
'We've worked hard to bring the best out of the songs, stretching them in different ways to find the best vibe and sound', reflected Alan. 'Also, I wanted to come back to my home region and work with friends I have known and respected musically for a long time. However, the songs are universal and could tell anyone's story, wherever they are.'
The 'Northeast' album is available on major streaming sites and 'Our Heroes' has been chosen as its first single release..
---
Notes for the artist
: This page will always be here under your name in "
Featured Artists"
You can al
ways send us an updated Bio using 'CONTACT' on Menu at the top of page.
---

© LonelyOakradio.com